JLG Awarded ATLAS II Forklifts Contract from U.S. Army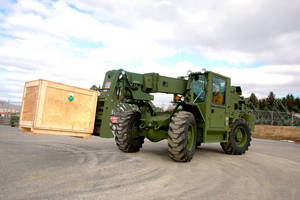 McConnellsburg, Pa. - JLG Industries, Inc., an Oshkosh Corporation company [NYSE:OSK], announced today that it has received two orders for approximately $51 million from the U.S. Army to build a total of 311 JLG® All Terrain Lifter Army System (ATLAS II) telescopic forklifts. The first shipments of these products are slated to support U.S. Army logistics in Afghanistan.

"The ATLAS II telescopic forklift can reach over obstacles to place loads, weighing up to 10,000 lb. (4,536 kg), into trucks or shipping containers," said Denny Buterbaugh, JLG's vice president - government products and programs. "The tremendous versatility of these rugged machines, combined with their exceptional rough terrain capability and JLG's history of quality performance in the field were three of the factors why the U.S. Army chose JLG for its rough terrain material handling equipment needs."

ATLAS II rough terrain forklifts boast significant performance enhancements over the original ATLAS design. These improvements include reduced emissions and the addition of several multifunctional attachments. Manufactured in McConnellsburg, PA, the ATLAS II machines will supplement the 2,500 original ATLAS units being utilized by the U.S. Army in operations around the world.

About JLG Industries, Inc.
JLG Industries, Inc. is the world's leading designer, manufacturer and marketer of access equipment. The Company's diverse product portfolio includes leading brands such as JLG® aerial work platforms; JLG, SkyTrak® and Lull® telehandlers; and an array of complementary accessories that increase the versatility and efficiency of these products. JLG is an Oshkosh Corporation company [NYSE: OSK].

For more information about JLG Industries, Inc., log on to the company Web site at www.jlg.com.

About Oshkosh Corporation
Oshkosh Corporation is a leading designer, manufacturer and marketer of a broad range of specialty access equipment, commercial, fire & emergency and military vehicles and vehicle bodies. Oshkosh Corp. manufactures, distributes and services products under the brands of Oshkosh®, JLG®, Pierce®, McNeilus®, Medtec®, Jerr-Dan®, Oshkosh Specialty Vehicles, Frontline(TM), SMIT(TM), CON-E-CO®, London® and IMT®. Oshkosh products are valued worldwide in businesses where high quality, superior performance, rugged reliability and long-term value are paramount. For more information, log on to www.oshkoshcorporation.com.