Jig Borer is suited for die and mold manufacturing.
Press Release Summary: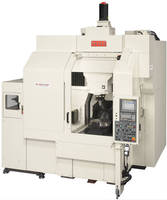 Able to machine hard materials in complicated shapes, 5-axis YBM-Vi40 Jig borer can tilt work pieces and features cutting feed rates of 2,000 mm/min with surface roughness of Ra 0.25 µm. Device integrates rotary B/C-axis on Y-axis, maximizing control, rigid worm gear mechanism providing high reduction ratio for tilting axis, and Thermal Distortion Stabilized System. Borer features spindle speeds up to 24,000 rpm and offers 3+2 axes, 4+1 axes, and all axes simultaneous machining options.
---
Original Press Release:

New YBM-Vi40 5-Axis Jig Borer from Yasda Takes Die and Mold Manufacturing to New Levels of Precision and Productivity



Elk Grove Village, IL - (August 11, 2009) Yasda Precision America Corporation, the leader in ultra-precise machining centers, has unveiled a 5-axis jig borer that exceeds all precision and productivity expectations. Featuring 5-axis machining technology, the YBM-Vi40 Jig borer is capable of high precision die and mold machining of extremely hard materials in complicated shapes.

In a study comparing general 3-axis machining to index 5-axis machining of an R1 ball end mill for finishing, the YBM-Vi40 reduced machining time to about 1/5th. The ability to tilt the work piece with the YBM-Vi40 also reduced cutter length requirements. With the YBM-Vi40, thanks to the shorter tool length, cutting feed rates were 2000 mm/min, contrasted with 400 mm/min with a 3-axis machine, and surface roughness was Ra 0.25 µm versus Ra 0.90 µm.

Designed with a structure based on Yasda's world-class YBM series, the YBM-Vi40 performs with high precision and rigidity. The integration of a rotary B/C-axis on the Y-axis of the YBM-950V provides enhanced control and minimizes weight differences in movable bodies on each axis, while setting the heavy movable bodies to a lower center of gravity. A Yasda-built highly rigid worm gear mechanism with high reduction ratio is used for the tilting B-axis. This stabilizes the machine against tremendous changes in tilting moments depending on the position and heavy cutting loads. The B-axis is supported by three roller bearings and helps control performance in reverse motion. A Direct Drive (DD) motor is used for the rotary C-axis for highly accurate positioning without mechanical backlash.

To ensure high accuracy during long cycle times, Yasda has equipped the YBM-Vi40 with a Thermal Distortion Stabilized System. By circulating temperature-controlled oil through the machine body and trunnion frame, thermal displacement of each axis is minimized and stable precision machining is achieved.

For improved operability and workability, the distance between the YBM-Vi40 spindle and the work piece and the distance between the operator and the machining point have been decreased.

5-axis machining options for the YBM-Vi40 include 3+2 axes (3 axes simultaneous machining by fixing the index angles of B/C-axes) and 4+1 axes (4-axes simultaneous machining by fixing the index angle of B-axes) and all axes simultaneous machining.

Specifications for the YBM-Vi40 include spindle speeds up to 24,000 rpm, rapid traverse rates of 20,000 mm/min. (X, Y, Z-axis) / 100 RPM (C-axis) / 20 RPM (B-axis), travels of 900 mm (X-axis) / 500 mm with limitations (Y-axis) / 450mm (Z-axis), and a table working surface of 400 mm diameter (200 kg load capacity).

To learn more, contact Yasda Precision America Corporation, 62 North Lively Boulevard, Elk Grove Village, IL 60007, Phone: (847) 439-0201, Fax: (847) 439-0260, e-mail: yasda1@yasda.com or visit www.yasda.com

More from Controls & Controllers