Jib Crane features hydraulically operated mast.
Press Release Summary: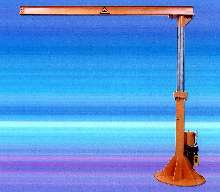 Multifunction Model PV411A delivers fine pressure control, ability to operate with high-viscosity fluids, large-volume reservoir option, and tamper-proof, field-selectable pressure relief valve. Hydraulic pressures can be generated to 10,000 psi, as well as pneumatic pressures to 600 psi, vacuum to 28.5 in. hg, and draft range pressures, all in single pump. Vacuum priming function removes trapped air from within system.
---
Original Press Release:
Powered Telescopic Mast Jib Crane

New Telescopic Mast Jib Crane was developed by ATI at Mentor, Ohio. The unique Jib Crane has a hydraulically operated mast that serves dual purpose where beam has to rotate under obstruction or reach into cavity to pick up load, then it rotates and can raise to higher level over obstructions below. It can operated without a hoist or additional expense of electric wiring. Because it can be operated with a sling and trolley on the beam, it can work in hazardous, hot or corrosive environments. The 360-degree manual rotation gives agility
and versatility in on-spot handling. The hydraulic system can be electrically powered by 110 volt AC, 220/440 volt/3 phase or air powered for hazardous areas. The control for lifting and lowering is remote push button on pendant for operator convenience.

These units are available in capacitys of 500, 1000 & 2000 pounds. Beam reach from 6' to 12' and lifting height from 6' to 20'.

The new Telescopic Jib Crane will help to increase efficiency, save time and improve safety handling of unusual challenging tasks.

FOR MORE INFORMATION:

Air Technical Industries

7501 Clover Avenue

Mentor, Ohio 44060

Phone: 440-951-5191

Fax: 440-953-9237

E-mail: [email protected]

www.airtechnical.com