Jet Mixer suits sanitary in-tank agitation applications.
Press Release Summary: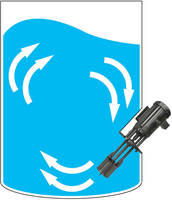 Capable of producing strong axial flow patterns and uniform liquid velocity throughout mixing vessel, Ytron® C-Type Jet Mixer complies with 3-A Sanitary Standards. Side entry tank/silo mixer offers CIP operation with line-of-sight access to all product contact areas and motor flange adapter, enabling quick sight checks for leak detection and seal maintenance. It is available in 2 models ranging from 7.5-20 hp depending on desired capacity/batch size, up to maximum of 80,000 gal.
---
Original Press Release:

Quadro Launches an Enhanced Sanitary Solution to In-Tank Mixing



Quadro is proud to introduce the C-Type Jet Mixer, an enhanced sanitary solution to the issues of in-tank agitation. Eliminate the need for hard to clean tank baffles and no longer struggle with inefficient conventional agitators. Quadro Ytron® Jet Mixers offer a better solution, with a unique ability to produce strong axial flow patterns and uniform liquid velocity throughout a mixing vessel. Quadro Ytron® Jet Mixers efficiently prevent sedimentation and stratification, while improving heat transfer and reducing batch times. With the launch of our new C-Type Jet Mixer, Quadro now offers side entry models that comply with 3-A Sanitary Standards.

To the Food & Beverage industry, the Quadro Ytron® C-Type Jet Mixer is the brand of side entry tank/silo mixer that offers more reliable CIP operation with easy to clean line-of-sight access to all product contact areas. The easy access design also carries over to the motor flange adapter, enabling quick sight checks for leak detection and seal maintenance.

C-Type Jet Mixers are available in two different models ranging from 7.5-20Hp depending on desired capacity/batch size, up to a maximum of 80,000 gallons (~300,000L). Multiple mixing head sizes are available allowing each mixer to be fine-tuned for a wide range of product characteristics (i.e. viscosity and specific gravity).

Various other equipment options are available including a selection of motors, controls, portable lifts, etc.

For more information, please contact;

Quadro Engineering Corp.

613 Colby Drive

Waterloo, ON N2V 1A1

E-mail: sales@quadro.com

Website: www.quadro.com

Phone : (519) 884-9660 [Canada & International]

Phone: (973) 376-1266 [USA]

Fax: (519) 884-0253

IDEX Sanitary Group

Related