Jergens Kwik-Lok Pins for Construction Applictions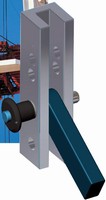 Jergens Kwik-Lok(TM) Pins Come in Standard and Special Configurations for a Wide Variety of Construction Applications

December 19, 2007-Jergens Kwik-Lok(TM) Pins (KLPs) provide a clear advantage in a variety of construction applications - including cranes, scaffolding equipment, mining equipment, drilling equipment, lifting equipment including hoists, slings, and cables, and in trailer beds. For any application requiring frequent connecting and disconnecting, lifting, changing, or securing objects without using tools, Jergens positive locking pins offer superior performance compared to detent, clevis, and cotter pins. Plus, Jergens KLPs are a high-quality, better-engineered positive locking pin and our unique manufacturing process ensures quick turnaround on special sizes and configurations.

Kwik-Lok Pins are manufactured in a wide range of standard and special sizes to meet your needs, including MS and NAS, with lot number traceability on every pin. Standard sizes of more than 6,000 items are available immediately from stock, and special handle, material, and ball configurations are never a problem.

Jergens Kwik-Lok Pins are available in five handle styles: T, L, button, recessed button, and ring. Standard sizes range from 3/16" to 1" outside pin diameters in 1/2" to 6" grip lengths. Metric sizes include 5mm to 25mm outside diameters in 10mm to 100mm grip lengths. All are made of stainless steel or carbon steel. Most KLPs are available in 17-4 PH stainless steel, providing greater corrosion resistance in damp or humid environments.

For more information, including downloadable 3D solid models (1" grip lengths) in SolidWorks® (.SLDPRT) and .STEP formats, visit Jergens' website, www.jergensinc.com.

Founded in 1942, Jergens has grown into four separate operating divisions providing superior engineered solutions and products: "The standard components with the highest standards." The Jergens Difference might be better engineering or better service but the result is always the same - a better solution for our customers. Jergens is an ISO 9001:2000 certified company. For more information, please contact Jergens, Inc. at Jergens Way, 15700 S. Waterloo Road, Cleveland, OH 44110-3898. Phone: 216-486-5540 or toll free: 800-537-4367; Fax: 216-481-6193. On the Web: www.jergensinc.com. E-mail: info@jergensinc.com.

Related