Jergens Expands Keylocking Thread Repair Inserts Line with MS and NAS Standards Models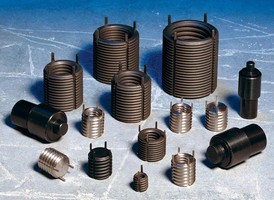 June 21, 2007-Jergens, Inc. has expanded their thread repair insert line with several models meeting MS (Military Standards) and NAS (National Aerospace Standards) quality requirements. Jergens' expanded offering meets MS51830, MS51831, MS51832, NAS1394, and NAS1395 military and aerospace specifications. All Jergens keylocking inserts are easy to install with standard drills and taps-no special tools required. "Keys" mechanically lock the insert into the base material, holding better than spring or locking patches, which do not mechanically lock the insert.

Jergens keylocking inserts are rated among the highest in pullout strength of any thread repair device on the market. Jergens offers a wide variety of styles, including thinwall, heavy duty, extra heavy duty, and solid inserts in both stainless steel and carbon steel materials.

Founded in 1942, Jergens has grown into four separate operating divisions providing superior engineered solutions and products: "The standard components with the highest standards." The Jergens Difference might be better engineering or better service but the result is always the same-a better solution for our customers. Jergens is an ISO 9001:2000 certified company. For more information, please contact Jergens, Inc. at Jergens Way, 15700 S. Waterloo Road, Cleveland, OH 44110-3898. Phone: 216-486-5540 or toll free: 800-537-4367; Fax: 216-481-6193. On the Web: www.jergensinc.com. E-mail: info@jergensinc.com.


More from Architectural & Civil Engineering Products