Jenoptik Shows Its Advanced Laser Technology for Thin-film Photovoltaics and High-Tech Glass at the solarpeq 2012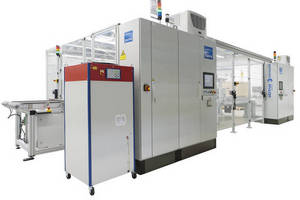 Jenoptik's Lasers & Material Processing division shows its latest laser machine technology for the processing of thin-film solar cells and high-tech glass at this year's solarpeq at the exhibition center in Düsseldorf, hall 11, booth G76, on October 23 to 26.

Jenoptik laser machines for the solar industry are among the leading ones worldwide. Jenoptik relies on many years of production experience and the field reports of customers who have integrated a Jenoptik machine into their production lines. In this context, the priority is on the processing of glass-based thin-film modules, especially the ablation and layer removal processes. The experience gathered in this field has resulted in synergies with the glass industry.

Laser Machines for the High-tech Glass Manufacturing Used for Energy-saving Smart Windows

High-tech glass is used for so-called smart windows. These windows can be electronically adapted to external lighting conditions. This results in a significant reduction of the energy consumption. Moreover, this type of windows opens up a variety of possibilities for building design.

The steps during the structuring process in the field of thin-film solar modules are similar to those in the fields of intelligent architectural glass and smart windows. Analogous to a thin-film solar cell, high-tech glass also consists of several layers, only micrometers thin, which will be applied to the glass. After each application, the layers are structured in a highly precise process. A specially adapted laser technology is used for each structuring steps. Edge deletion and the cutting of trimmed sizes are done by means of Jenoptik laser technology as well.

Preliminary tests have shown that only microcrack free glass edges, as generated during Thermal Laser Separation (TLS), meet the high thermal shock resistance requirements of coated glass elements. Jenoptik's many years of experience with this technology enable the cutting of large substrates in nearly any shape. Thus, the technology know-how combined with the innovative machine engineering opens up new application fields.

A demonstration of this technology can be seen at solarpeq in hall 11, booth G76. Visitors can see for themselves how resistant laser-cut glass substrates are to thermal shocks.

All-rounder for the Laser Structuring of Original Size Thin-film Solar Cells

Another product of Jenoptik's Lasers & Material Processing division for the photovoltaic industry is the JENOPTIK-VOTAN® Solas Multi laser machine which is unique in the world. This laser machine is a universal mass production system for all structuring processes. It can also be used as an R&D pilot system for the optimization of customer-specific thin-film photovoltaic modules as well as a manufacturing machine. The suitable laser sources are integrated into the machine concept.

The JENOPTIK-VOTAN® Solas Multi for structuring and the JENOPTIK-VOTAN® Solas LED for edge deletion can process efficiently small up to very large thin-film solar modules. Further applications are mechanical scribing for CIS/CIGS technologies and laser ablation for semi-transparent BIPV modules.

For more information on the laser machines for the solar and high-tech glass industries, please visit http://www.jenoptik.com/lm.

About the Jenoptik Lasers & Material Processing division

The Lasers & Material Processing division has control of the entire value-added chain of laser material processing and it is one of the leading providers - from component through to complete system. In the area of laser, Jenoptik has specialized in high-quality semiconductor materials and reliable diode lasers as well as innovative solid-state lasers, for example disk and fiber lasers. In the area of high-power diode lasers Jenoptik is acknowledged worldwide as a leader in quality for high-power diode lasers. These laser sources are used, among other things, in the areas of laser material processing, medical technology and show & entertainment. In the area of laser processing systems we develop systems and machines that are integrated into production facilities for our customers as part of their process optimization and automation. These systems enable our customers to work with plastics, metals, glass and thin-film solar cells with maximum efficiency, precision and safety.


More from Software