JEC World 2018 for Wabash and Carver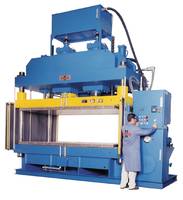 Wabash MPI and Carver, Inc. will highlight their full line of hydraulic and pneumatic presses for the composites industry in the USA pavilion at JEC World, the leading international composites show. Held from March 6-8, 2018 in Paris, France, Wabash and Carver will feature their full line of composite presses with capacities from .5 to 1200 tons and platen sizes from 6" X 6" to 6' X 12'. Custom press systems for specific applications and a variety of options, including eject systems, data acquisition, recipe storage and bladder and core pull circuits are also available.
The line of presses from Wabash MPI includes standard and custom presses for compression molding, vacuum molding, ASTM testing, composite molding, laboratory and R&D applications. Transfer presses offer precise molding of electrical components, medical products and other applications.
Carver, Inc. manufactures two-column and four column benchtop, manual and automatic hydraulic laboratory presses suited for various materials research such as plastics, elastomers, lab testing, laminating, pharmaceuticals, analytical chemistry and other applications including specimen preparation.
For more information contact Wabash MPI, PO Box 298, Wabash, IN 46992-0298. Phone: 260-563-1184, Fax: 260-563-1396. E-mail: wabashmpi@acscorporate.com, Website: www.wabashmpi.com.
For more information contact Carver, Inc., PO Box 544, Wabash, IN 46992-0544. Phone: 260-563-7577, Fax: 260-563-7625. Website:www.carverpress.com, E-mail: carverpress@acscorporate.com.
Contact This Company Download Spec Sheet
More from Communication Systems & Equipment