Jeannette Specialty Glass Manufacturing Capabilities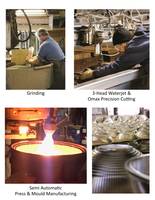 Jeannette, PA., September 2019…Jeannette Specialty Glass has been producing their patented formulation of "Hard Roc" Borosilicate Glass since 1904 in the coveted "Glass City", Jeannette, PA. JSG's glass products offer a wide range of production options and capabilities for product advancement and innovative designs. Our experienced team specializes in contract manufacturing, and working from concept to final production. Supplying customer's with superior quality borosilicate glass and maximizing yields for competitive pricing.
"Hard Roc" Borosilicate Glass Benefits
Borosilicate Glass "HR-37" - Owned Formulation
Explosion-Proof & Shatter-Proof
Durability—Chemical, Scratch, Stain, and Thermal Shock Resistant
Environmental and chemical corrosion resistance
Clear colorless glass
UV Resistant—Non-Weathering, Non-Yellowing, Non-Fading, Non-Discoloring
Jeannette Specialty Glass' equipment capacities include a semi-automatic press with continuous melting furnace. JSG specializes in press and mould manufacturing with a multi-step quality control department. Additional testing includes impact & up-shock, strain, thermal shock & annealing.
Finishing Production Capabilities
Core Drilling
3-Head Waterjet & Omax Precision Cutting
Glass Etching
Grinding
Sand Blasting
Ceramic Paints & Organic Coatings
Jeannette Specialty Glass' product categories are vast and the team continues to develop new glass categories for market expansion. JSG holds multiple design and product patents and invests in continuous improvement for sustainability. Jeannette Specialty Glass' manufacturing footprint includes a Manufacturing and Warehouse facility totaling 120,000 square feet with stocking and drop-ship programs for domestic or worldwide shiping.
Press Contact:
Christina Jansure
Jeannette Specialty Glass
215 North 4th Street
Jeannette, PA 15644
ph:724.523.5567
fax:724.523.0123
www.jeannettespecglass.com
More from Fluid & Gas Flow Equipment