Jaygo has an Innovative Double Planetary Mixers that is Supplied to a Multitude of Chemical Manufacturers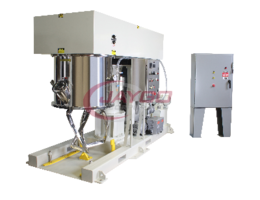 This unit was shipped for the production of adhesives for the consumer market. The mixer is designed to efficiently knead, mix, and disperse a wide range of ingredients from liquids, to slurries, to heavy paste consistencies. All parts in contact with the product are Stainless Steel and highly polished. The mixer blades are driven by a heavy duty, specially fabricated planetary gearbox. Each blade is easily removable for cleaning or repair. The mixer can be gravity discharged through a bottom discharge valve or with the assistance of a discharge press. Typical applications include silicones, adhesives, caulks, ceramics, and other high viscosity products.
Jaygo was originally formed as an organization selling equipment to the chemical, pharmaceutical, cosmetic, coating, and petroleum industries. Over the years, Jaygo has grown to manufacture, import, and sell some of the finest processing equipment produced in the world. This equipment includes Conical Screw Processors, Double Arm Sigma Blade Mixers & Extruder Mixers, High Shear Mixers, Double Planetary Mixers, all types of Grinding Media, Pressure Vessel Clamps, Specialty Valves, and other Process Equipment. Our service department provides repairs, maintenance, and spare parts for all foreign and domestic equipment. Jaygo maintains a staff of After Sales Service Technicians who work with you to ensure efficient, accurate service. Our customers range from Fortune 500 companies to small start-up businesses. Jaygo is dedicated to supplying the highest quality process equipment available.
7 Emery Avenue Randolph, New Jersey 07869
Toll Free: 1-888-81-JAYGO
Phone: 908-688-3600
Email: sales@jaygoinc.com
Website: www.jaygoinc.com
Contact This Company Download Spec Sheet
More from Material Processing