Japanese Fukumi Corporation Opens World's First NFC Physical Shop with UPM RFID NFC Tags in Tokyo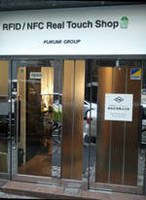 (UPM RFID, Tampere) - Fukumi Corporation, a member of the UPM Pro RFID Alliance, has today opened the world's first ever physical shop for NFC tags and applications, NFC starter kits, and printing and encoding services. 'RFID/NFC Real Touch Shop', located in Yaesu, Tokyo, exclusively features NFC tags from UPM RFID. The shop allows both beginners and professional NFC smartphone users to 'tap and touch' and learn more about and experience the opportunities of NFC technology in real-life applications.

Fukumi has previously opened an online store providing HF, UHF and NFC tags from UPM RFID as well as RFID hardware at www.ace-kougyo.com. At the physical NFC tag shop, customers have access to personal service with NFC consulting and guidance. Fukumi expects this concept will enable customers to take off with NFC technology, and the company is considering opening more shops in future.

"Fukumi has been a member of the UPM Pro RFID Alliance since 2010, supplying UPM RFID products to various Japanese distribution companies. With the real shop we aim to be the leading NFC player in the region offering a wide variety of high-quality UPM RFID NFC tags and inlays," explains Yoshihiro Fukumi, President, Fukumi Corporation.

"Fukumi's shop is the first physical NFC shop in the world with a complete service concept built around NFC tags. To date UPM RFID has participated in the opening of the world's first online NFC shop for custom NFC tags, and also played a role in the development of the first mobile app for ordering NFC tags. We are now honoured to be participating in the opening of this first ever physical NFC store," says Edward Lu, Sales and Marketing Director, APAC, UPM RFID.

For further information, please contact:

Mr Edward Lu, Sales and Marketing Director, APAC, UPM RFID, tel. +65 9173 0884

Mr Yoshihiro Fukumi, President, Fukumi Corporation, tel. +81 0438 63 5251

About UPM RFID

UPM RFID, part of UPM's Engineered Materials business group, is the world's number one producer of HF, NFC and UHF radio frequency identification (RFID) tags and inlays. UPM RFID has a global service network consisting of factories in China and in the United States and a broad network of sales offices worldwide. The UPM Group employs around 24,500 people and it has production plants in 16 countries. UPM's annual sales exceed EUR 10 billion. UPM's shares are listed on the Helsinki Stock Exchange. On December 2011 UPM reached an agreement with SMARTRAC N.V. whereby UPM will sell its RFID business to SMARTRAC. The deal is expected to be closed during the Q1/2012. Further information is available at www.upmrfid.com.

About Fukumi Corporation, Ltd.

Fukumi Corporation started business in 1946 with packaging materials mainly for publishing and distribution companies. The Fukumi group comprises three companies, Fukumi Osaka, Ace-Kougyou and Maki, providing packaging materials and developing and maintaining high-level logistical packaging equipment and hardware. Further information is available at www.fukumi.com and shop.rfid.jp.

More from Material Handling & Storage