Jacketed Piping transfers viscous materials.
Press Release Summary: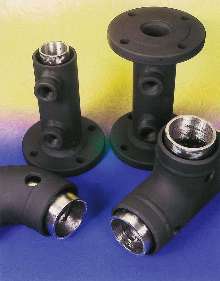 Jacketed Piping features inside pipe that transfers viscous material within outside pipe, which holds heating media to facilitate flow. Fully heating inside pipe for uniform control of viscous material transfer, piping is offered in straight lengths, elbows, 90°, tees, and valve configurations with various flanges. Inside pipe ranges from ½-14 in. ID and outside pipe ranges from 1-16 in. ID. Heating media can be hot water or hot oil and glycol or steam.
---
Original Press Release:

Jacketed Piping Transfers Viscous Materials


A full line of jacketed piping for transferring molten metals, coal tar pitch, corn syrup, polymers, and other viscous materials by providing more uniform and steady control than electric- or steam trace pipe is available from TamaRink Jacketed & Specialty Piping of Leominster, Massachusetts.

TamaRink Jacketed Piping features an inside pipe that transfers a viscous material within an outside pipe which holds a heating media to facilitate flow. Fully heating the inside pipe for more uniform and steady control of the viscous material transfer, this jacketed piping is offered in straight lengths, elbows, 90°, Tees, and valve configurations with various flanges.

Suitable for virtually any process, TamaRink Jacketed Piping on the inside can be steel, stainless steel, Inconel®, Monel®, or Hastelloy® and carbon steel or a similar metal on the outside, depending upon the host system. Heating media can be hot water or hot oil and glycol or steam. Inside pipe is available from ½" to 14" I.D. and the outside from 1" to 16" I.D.

TamaRink Jacketed Piping is priced according to configuration, materials, size, and quantity. Literature and quotations are provided upon request.

For more information contact:
TamaRink Jacketed & Specialty Piping
Walter Rinki, Engineering Manager
36 Lanides Lane
Leominster, MA 01453
(800) 354-9610 FAX (978) 537-9755
e-mail: info@tamarink.com
www.tamarink.com

More from Fluid & Gas Flow Equipment