Jack Sockets support audio applications.
Press Release Summary: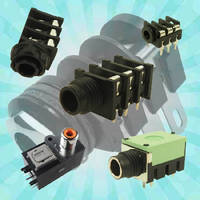 Featuring ¼ in. offset nose, S1 Narrow Body Jack Socket offers manufacturers high PCB packing densities. Unit may be specified with optional integral chassis grounding contact which connects to barrel of plug for maximum earth continuity. Engineered with advanced contact tip technology to accept wide range of Far Eastern plug shapes, 3.5 mm S9 Stereo Switched Jack Socket is right-angle mounted with PCB and solder tag contact options as well as nose thread variants.
---
Original Press Release:

New Offset Nose Narrow Body Jack Socket Expands Audio Connector Range from Cliff Electronics



Widest Range of High Quality, industry standard ¼ inch jack sockets and 3.5mm connectors



CLIFF Electronics continues to expand their range of internationally renowned audio jack sockets with a number of new product introductions.



The new S1 industry standard ¼" offset nose space saving narrow body jack socket offers equipment manufacturers higher PCB packing densities. The S1 may be specified with an optional integral chassis grounding contact which connects to the barrel of plug for maximum earth continuity ensuring lowest noise signals and maximum safety. The new offset nose jack socket is available in all nose thread variants. Applications for this new space saving jack socket include musical instruments and amplifiers, effects pedals and all audio equipment where space is at a premium.



Extending their range of 3.5mm jack sockets Cliff have introduced the S9 range of stereo switched jack sockets. The S9 features contacts engineered with advanced contact tip technology to accept the widest range of Far Eastern plug shapes, is right-angle mounted with PCB and solder tag contact options and nose thread variants. A mono switched version, the S6 is also available. Cliff's S9 stereo jack sockets are widely used in educational equipment, mobile systems for exhibition audio tours, PDAs and personal audio products.



Cliff Electronics now also offers a range of sealed ¼" jack sockets which minimizes contact contamination due to dust and dirt commonly found in fan cooled equipment or products which are infrequently used and spend time in storage. Cliff sealed jack sockets are available with a full range of nose thread variations, connected earth and RFI washer variants and for further protection from dust ingress captive hole caps may be specified to seal vacant sockets.



Optical jack sockets are also supplied by Cliff Electronics. Widely used in audiophile, professional audio and broadcast systems optical connection provides high immunity to noise and crosstalk ensuring high quality audio interconnection between equipment. Cliff optical jack sockets conform to the EIAJ/JEITA rectangular standard CP-1210 and also RC-5720 and JIS C5974-1993 F05 standards for digital audio interfaces including fibre-optic interconnections and are available to suit a wide range of connection types including Toslink, RCA and 3.5mm. Matching moulded optical lead assemblies are also available for use with all Cliff Electronics optical jacks



Cliff Electronics is one of the longest established manufacturers of components and connectors for audio, engineering, instrumentation, medical, lighting and vending applications. John Hall, General Manager of Cliff Electronics, comments "Cliff Electronics has been manufacturing jack sockets since 1964 and we are a recognised market leader in their design, development and manufacture."



Cliff jack sockets are used by major global audio equipment manufacturers in the music and broadcast industries and the company can also offer customers a complete cable and lead design and manufacturing service, including over-moulding, to meet specific application requirements.



All of Cliff's ¼ inch jack socket ranges include a large choice of nose options including metal. Users have a choice of fixing nut and washer options, higher temperature body material, all combinations of contact patterns, Ni-Ag® alloy self-cleaning contacts for superior performance and reliability. Customers are able to specify types switched and non-switched contacts, as well as options for chassis grounding and EMI/RF screening.



Cliff's flagship S2 and S4 ¼ inch audio jack sockets are used worldwide for premium audio, guitar amplifiers and foot-pedals. All standard jack socket options are available with customers also being able to specify internal or externally threaded noses in all variations of thread, nuts, washers and mounting accessories.



Cliff Electronics patented range of "Stack Jack" sockets allow two sockets to occupy the same PCB space as a single conventional socket. This offers increased printed circuit board density with greater reliability than vertical jacks for mono and stereo applications. Options include selection of stacking spacer thickness to accommodate flexible fixing choices.



In addition to jack plugs and sockets Cliff Electronics manufactures power connectors, terminal posts, test connectors, test leads and accessories, general industrial connectors, foot pedals, hand tools, production aids, lighting connectors, motors and fans. Cliff can also provide a wide range of leads including audio, instrument and power. For more information call +44 (0)1737 771375, email sales@CliffUK.co.uk or visit www.cliffuk.co.uk



About Cliff Electronics

CLIFF Electronic Components Limited was founded in 1977 to supply the music industry with connectors. Cliff has subsequently greatly expanded their products and services to become a high quality supplier to most professional and industrial markets. As both a manufacturer and a distributor, the expansion of their product range has established Cliff as a prime source for components. From audio into test leads and accessories, general industrial connectors, foot pedals, hand tools, production aids, lighting connectors, motors and fans. Cliff also manufactures and sources various types of leads including audio, instrument and power leads. Cliff also has extensive expertise  in moulding and metalwork and can provide a design, engineering and manufacturing service for the production of customised  components and assemblies. Our plastics expertise  includes injection-moulding, blow-moulding, extrusion, sonic-welding and printing. Metalwork includes stamping, machining, aluminium  extrusion, finishing and printing. We also have the facility to enable assembly, inspection and testing. Cliff's UK and Far Eastern production plants are certified to ISO 9001 2000 and employ design, engineering, technical, marketing and sales personnel. Quality has always been of prime importance and the majority of CLIFF products are covered by approvals from organisations  such as UL and VDE.



For further information contact;

Cliff Electronics Ltd.

Holmethorpe Industrial Estate, Redhill, Surrey, RH1 2PF, England

+44 (0)1737 771375     

sales@cliffukco.uk

www.cliffuk.co.uk

More from Mechanical Power Transmission