J700 Dental™ Dental 3D Printer uses GrabCAD Print™.
Press Release Summary: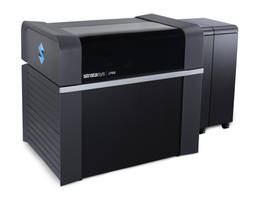 Delivering lab production rates of more than 400 clear aligner molds per day, J700 Dental™ Dental 3D Printer is used in orthodontic labs. Offering seamless 3D printing process, unit comes with new digital dentistry workflows. Product enables user to work with detailed views using tray and slice preview option and eliminates the need for manual post-curing or finishing.
---
Original Press Release:
Stratasys Debuts a New Dental 3D Printer for Orthodontics, Offering Extremely High Throughput for Production of Clear Aligners
Stratasys J700 Dental™ is specifically designed for the orthodontics segment, driving accelerated production of clear aligners and setting new benchmarks for performance and speed
Stratasys Ltd. (Nasdaq:SSYS), the 3D printing and additive manufacturing solutions company, today unveiled the Stratasys J700 Dental™ 3D Printing solution – the fastest PolyJet-based 3D printer for production of clear aligner molds. Driving scalable, on-demand production, the solution addresses increased demand for fast production of 3D printed aligners as the industry incorporates new digital dentistry workflows.
Previewed at the 37th International Dental Show, the Stratasys J700 Dental brings high throughput with lab production rates of more than 400 clear aligner molds per day. The durable VeroDent™ material is ideally suited for accelerated production, greater accuracy, and minimal post-processing. The solution offers seamless digital workflows for large-volume production of patient-specific aligners on the same tray, also reducing requirements for manual post-curing or finishing.
The dental community is one of the fastest adopters of 3D printing technology, transforming highly manual processes in the shift towards digital dentistry. Powering better patient experiences, digital dental models can streamline the scan to in-house production workflow, reduce delivery times and gain more accurate output. These processes lower equipment costs, save time, and boost operations for improved competitive advantage.
"The Stratasys J700 Dental 3D Printer is especially designed for orthodontic labs to achieve high throughput in production of clear aligners. It is custom-built to address demand for large scale capacity, effectively keeping pace with growing segment requirements," said R. Scott Rader, PhD, GM of Healthcare Solutions at Stratasys. "With the highest levels of throughput, Stratasys is shaping digital dentistry - again."
An easy-to-use and clean system, the Stratasys J700 Dental 3D printer reduces requirements for advanced design expertise. Further easing workflows is GrabCAD Print™, permitting users to capitalize on smart default settings, tips and notifications for a more seamless 3D printing process. Customers can work with detailed model views alongside a tray and slice preview to handle all necessary adjustments before even going to print.
Previewed for the first time at the International Dental Show in Cologne, the Stratasys J700 Dental is expected to be generally available later in 2017. Please visit Stratasys at Hall 3.1 Stand (L048 M049) or Hall 10.2 Stand (P032) for an advanced look. For more than 25 years, Stratasys Ltd. (NASDAQ:SSYS) has been a defining force and dominant player in 3D printing and additive manufacturing – shaping the way things are made. Headquartered in Minneapolis, Minnesota and Rehovot, Israel, the company empowers customers across a broad range of vertical markets by enabling new paradigms for design and manufacturing. The company's solutions provide customers with unmatched design freedom and manufacturing flexibility – reducing time-to-market and lowering development costs, while improving designs and communications. Stratasys subsidiaries include MakerBot and Solidscape, and the Stratasys ecosystem includes 3D printers for prototyping and production; a wide range of 3D printing materials; parts on-demand via Stratasys Direct Manufacturing; strategic consulting and professional services; the GrabCAD platform with over 3 million professional users; and the Thingiverse and GrabCAD communities with over 2 million 3D printable files for free designs. With more than 2,700 employees and 1,200 granted or pending additive manufacturing patents, Stratasys has received more than 30 technology and leadership awards. Visit us online at: www.stratasys.com.
Stratasys Media Contacts
Stratasys
Arita Mattsoff, +972-(0)74-745-4000 (IL)
Joe Hiemenz, +1-952-906-2726 (US)
North America
Craig Librett, +1-518-424-2497
Stratasys
More from Electronic Components & Devices