J D Neuhaus Air Force Can Lift Your Business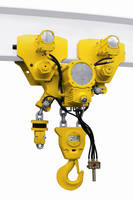 J D Neuhaus LP will be showing some of their air operated lifting and handling equipment, including specialist hoists for use with BOP products, at the following forthcoming trade shows and exhibitions:

IADC Well Control of the Americas

25th - 26th August 2011

USA - San Antonio, Texas

Booth # 9

Oil Sands Trade Show

13th - 14th September 2011

CANADA - Fort McMurray, Alberta

Booth # 3510 Hall C

Canadian Manufacturing Technology Show (CMTS)

17th - 20th October 2011

CANADA - Toronto, Ontario

Booth # 3500

M & T trade fair for construction and mining equipment

10th - 13th August 2011

SOUTH AMERICA - Sao Paulo, Brazil

Booth name Air Service Industria e Comercio Ltda

The JDN Mini air operated hoists will be exhibited at most of the events. These highly versatile tools can be supplied in lift capacities from 275 to 2200 lbs, making them ideal for a wide variety of workshop and general engineering high/medium load manipulation applications, including horizontal pulling. They are fitted with a top suspension hook for single point lift/lower operations, with a trolley also available to accommodate load traverse operations using an overhead mounting rail. A Mini manipulator version can also be supplied which allows for safe, single handed operation of load movements.

Also on show at events in Canada will be selections from the JDN range of Profi air operated hoists. These can be supplied for lift capacities from 550 lbs up to an impressive 100 tons, with optional manual, reel chain or motorized trolleys also available for overhead rail mounting. These products are robust, fast and silent in operation with 100% duty ratings so eliminating unprofitable downtime.

Specialized Profi hoists for underwater operation can be supplied together with hoists for use in 'cryogenic' low temperature conditions.

Also at the event in Alberta, Canada a monorail hoist from the EH range will also be on show. These products have been purpose designed for BOP handling in oil and gas exploration operations. They are also low headroom units, which can be supplied for load capacities from 10 to 100 tons and can also be used in tandem for parallel, synchronized lifting operations.

All the J D Neuhaus handling products are designed for reliability with minimum maintenance requirements even in hazardous areas and potentially explosive environments. They have Ex ratings as standard with optional increased spark resistant packages also available. Hydraulic operation can also be accommodated where the power source is readily available.

Further information is available on request to:
J D Neuhaus L.P., 9 Loveton Circle, MD 21152 Sparks, USA

Contact: Peggy Weber

e-mail: p.weber@jdneuhaus.com

Office Phone: 1-888- NEUHAUS

www.jdneuhaus.com

Reader response inquiries to: Ms Peggy Weber of J D Neuhaus L.P.

Company information

J D Neuhaus are a privately-owned company, founded in 1745, and for over 260 years they have been using their expertise and experience to manufacture the highest quality hoists, winches and cranes. Their products offer solutions to almost every material handling problem irrespective of the driving medium: from air, manual and hydraulic hoists up to complete crane installations with explosion proofness.

JDN products are used in a wide variety of industries including:

Airplane Yards; Atomic/Coal Power Stations; Big Bag Handling; Cement Industry; Chemical Industry;

Crane Manufacturers; Dairies; Food Industry; Foundries; Galvanization; Glass/Ceramics; Large Kitchens;

Leather Plants; Locks; Machine and Plant Construction; Mining; Motor Car Industry; Offshore/Onshore;

Oil Storage; Over/Underground Construction; Paints and Varnish; Painting and Coating Installations;

Paper Industry; Pharmaceutical Industry; Printing Industry; Pyrotechnics Industries;
Refineries; Sawmills; Shipbuilding and Shiprepair Yards; Ships; Space Technique; Spray Booths; Steel Works; Surface Technique;

Tank Cleaning Devices; Textile Industry; Tunnel; Tire Manufacturers; Vacuum Technique

J D Neuhaus are represented in more than 90 countries and over 70 branches Worldwide.


More from Electrical Equipment & Systems