IXYS Integrated Circuits Division Offers New Dual IGBT Gate Driver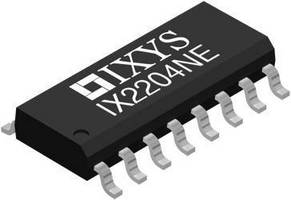 The IX2204 is also well suited for driving SiC MOSFETs



Beverly, Massachusetts, USA – IXYS Integrated Circuits Division (ICD), (NASDAQ: IXYS), announced the availability of the IX2204 Dual IGBT Gate Driver. The IX2204 features two high current outputs, each capable of sourcing 2A and sinking 4A. Manufactured on IXYS ICD's advanced BCDMOS Silicon on Insulator (SOI) process, the IX2204 outputs have a wide operation voltage range of -10V to +26V. The negative gate drive capability can be used to insure the turn-off of high power IGBTs. The outputs can be paralleled for IGBT gates that require higher drive current. The IX2204 is extremely robust and virtually immune to the voltage transients that are common in high power applications.



The IX2204 is readily able to provide the +18 to +20V turn-on and the -2V to -5V turn-off drive voltages required by many SiC power MOSFETs.



A desaturation detection circuit protects the power IGBT during an over-current or short circuit condition. If desaturation is detected, the IX2204 turns off the power IGBT in a controlled two-level manner that prevents excessive di/dt induced voltage transients. Under voltage lockout (UVLO) circuitry protects the IGBT from insufficient gate voltage. A Fault output signals a desturation or UVLO event.



The IX2204 has TTL compatible inputs and is rated for an extended operating temperature range of -40°C to +125°C. Applications include IGBT switching, motor controls and switch mode power supplies The IX2204 is available in a 16-lead thermally enhanced SOIC package.



Pricing and Availability



The IX2204 is available in production quantities. Pricing for OEM quantities of 25KU is $1.25.



About IXYS Integrated Circuits Division and IXYS Corporation



IXYS Integrated Circuits Division, (ICD), a leader in the design and manufacture of solid state relays and high voltage integrated circuits, is a wholly owned subsidiary of IXYS Corporation. IXYS Corporation develops and markets primarily high performance power semiconductor devices that are used in controlling and converting electrical power efficiently in power systems for the telecommunication and internet infrastructure, motor drives, medical systems and transportation. IXYS also serves its markets with a combination of digital and analog integrated circuits, power systems and RF GaAs and GaN based products. Additional information about IXYS Integrated Circuits Division, Zilog and IXYS may be found at www.ixysic.com, www.zilog.com and www.ixys.com.

More from Material Processing