ITW Muller Exhibiting at Anheuser-Busch Wholesaler Show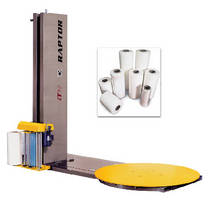 ITW Muller will be exhibiting at the Anheuser-Busch Wholesaler Show in New Orleans from October 17-19, 2010. The company will highlight the full line of semi-automatic to fully automatic stretch wrap equipment and stretch wrap film. The line of stretch wrap equipment includes the Raptor turntable series, Cobra rotary arm series and Octopus rotary ring series. ITW Muller manufactures cast and blown stretch films that offer superior load retention.

GaleWrap, another ITW Corporation company, will be combined with ITW Muller at the show. GaleWrap markets GaleWrap® Oriented Film and Oriented Equipment, an alternative to conventional hand wrapping, as well as Yellow Jacket brand equipment and services.

For more information, contact ITW Muller, 3456 N. Ridge Ave., Suite 400, Arlington Heights, IL 60004. Phone: 800-628-6787, Fax: 847-483-1500. Website: www.itwmuller.com, E-mail: sales@itwmuller.com.

More from Material Handling & Storage