Circuit Board Assembly Services
ITT Corporation Presents Endicott Interconnect Technologies, Inc. Certificate of Appreciation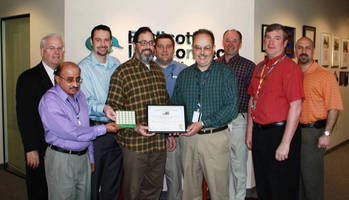 ENDICOTT, NY - July 7, 2010 - ITT Corporation Presents Endicott Interconnect Technologies, Inc. Certificate of Appreciation

Successful delivery of complex, mixed materials PC board leads to EI's permanent status on ITT's approved supplier list

ITT Corporation presented Endicott Interconnect Technologies, Inc. (EI) with a Certificate of Appreciation plaque for the EI team's support of the Thin Tile Array PC board, an integral part of a state-of-the-art, advanced technology program. As a result of successfully meeting program requirements, EI has earned permanent status on ITT's approved supplier list.

EI's engineering teams met tough technical challenges as they fabricated this complex, 24 layer PC board containing mixed materials, buried resistors, thick copper and multiple, deep cavities while meeting a tight project deadline. "I'm proud that our diligence and execution has contributed to our customer's success and at the same time, provided us the opportunity to work on additional advanced technology programs," stated Ash Bhatt, New Products Program Manager at EI.

About ITT Corporation

ITT Corporation is a high-technology engineering and manufacturing company operating on all seven continents in three vital markets: water and fluids management, global defense and security, and motion and flow control. With a heritage of innovation, ITT partners with its customers to deliver extraordinary solutions that create more livable environments, provide protection and safety and connect our world. Headquartered in White Plains, N.Y., the company generated 2009 revenue of $10.9 billion.

More from Packaging Products & Equipment