ITER Central Solenoid Lower Support Components Built with York, PA Parts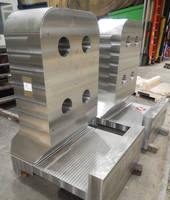 PCC Fabricates First Article Tie-Plates for Lower Support Components
US ITER has started delivery of lower support structures for the central solenoid, the world's largest electromagnet that will be at the center of the ITER fusion machine. The support structures provide a secure base and cage for the central solenoid in the face of thousands of tons of force. The lower support components were forged at Forge Monchieri in Cividate Camuno, Italy before transfer to Precision Custom Components in York, Pennsylvania for machining.
The central solenoid magnet is comprised of six vertically-stacked modules surrounded by a pre-compression support structure. Eighteen 18-meter tall tie-plates are attached to the outside of the modules and nine tie-plates are on the inside. The tie-plates are secured to the upper and lower supports. First article tie-plates were fabricated by two manufacturers, including Precision Custom Components, which is currently manufacturing follow-on units.
Before operation, pre-load forces of 210 meganewtons ‒ roughly six times the thrust of the first stage of a Saturn V rocket ‒ are applied to the assembly in order to be certain that vertical gaps and stresses do not develop between adjacent modules. The support structure then ensures that the internal magnetic forces within the central solenoid do not overcome the preload forces.
The structure also ensures that the 18 meter tall magnet remains aligned and secure during intensive cycling with peak fields of over 13 Tesla. The support structures must endure high mechanical stresses in the ITER environment and resist fatigue and crack growth from cycles at cryogenic temperatures. The chosen material for most of the support structures is high strength superaustenitic stainless steel (Nitronic 50).
The superconducting central solenoid will provide the magnetic flux swing required to induce up to 15 million amps of plasma current. During operations, the force swing in the structures is on the order of 100 meganewtons. The tie plates must endure these forces for 60,000 cycles.
Other major components of the lower support system include nine flex brackets, which support the weight of the magnet assembly and must accommodate the net vertical electromagnetic loading. The brackets have been designed to withstand loading events up to 180 meganewtons.
For more information, see http://www.pcc-york.com/
Contact:
Jim Stouch
Vice President – Business Development
Precision Custom Components, LLC
Phone: (717) 434-1802
Email: jstouch@pcc-york.com
More from Architectural & Civil Engineering Products