ITC/PLTC Cables are rated for exposed runs without conduit.
Press Release Summary: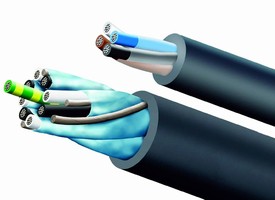 ITC/PLTC cables are designed for applications of 150 V or less with 5 A max. They can be customized to include paired or triad instrument cables, non-paired control cables, ground wires, shield and conductor color options, and insulation. Approved for use in Class 1, Div 2 hazardous areas, cables connect low power sensors, instruments, and control components. Exposed run rated units are UL listed and meet NEC 2002 requirements.
---
Original Press Release:
Northwire Introduces ITC/PLTC Cable for Exposed Run
Osceola, WI - January 20, 2005 - Northwire, Inc. has introduced its line of Northwire ITC, custom-configured ITC/PLTC cable for use in industrial control and instrumentation circuit applications. Three of the six new product platforms being introduced are exposed run rated. The cable, now available from Northwire Direct is customizable in virtually endless options to fit customer specifications including paired or triad instrument cable, non-paired control cable, with or without ground wires, insulation and shield options, and conductor color options. "We want cable customers to be aware of a change in the National Electrical Code (NEC) in 2002 that allows exposed runs of certain tray cable (ITC) and power limited tray cable (PLTC)," says Ted Beach, director of sales, Northwire, Inc. "The change in the code is significant because metal-clad cable or conduit is no longer required, which results in significant material and installation cost savings. Northwire's ITC-GP(ER), RS(ER) and DB(ER) meet the NEC 2002 requirements and are UL listed as exposed run-rated ITC and PLTC." A 1996 addition to the NEC designated ITC (Instrumentation Tray Cable) for remote instrumentation and controls in industrial environments under certain conditions. The change met demands for small-diameter, lower-cost cable for industrial and process control and instrumentation. Northwire ITC/PLTC cable is designed for applications 150V or less with a maximum current of 5 Amps; that connect to modern low power sensors, instruments and other control components. Installations using exposed-run rated ITC cable do not require conduit and are, therefore, less expensive and faster to install. Northwire ITC cables are approved for use in Class 1, Div 2 hazardous areas. Northwire's aluminum-armored ITC-GP cable is suitable for Div 1 areas. Northwire ITC/PLTC cable product classes include: oITC-GP (General Purpose) for lowest cost applications or aluminum armor option; oITC-GP(ER) (General Purpose/Exposed Run) for lower installation cost indoor applications, exposed run rated. oITC-RS (Rugged Service) tougher TPE-jacketed cable for manufacturing environments with weld flash or oil-cutting fluids, and where abrasion resistance is required; oITC-RS(ER) (Rugged Service/Exposed Run) tougher TPE-jacketed cable as above, for exposed run. oITC-DB(ER) (Direct Burial/Exposed Run) for outdoor use and in direct burial applications where maximum crush resistance is needed along with exposed run rating; oITC-EXTREME for extreme environment applications with very low temperatures or unsurpassed cut resistance or oil resistance. Customers interested in quotes for custom-configured cable applications can download a form on Northwire's Web site, www.northwire.com/itc or call 800-468-1516. Northwire Direct guarantees manufacture, configuration and shipping within three to four weeks. Northwire UL-approved cable is appropriate for all plant instrument and control wiring needs. Northwire also produces portable power cordage and tray cable for distributing power within plant facilities. Northwire ITC cable is UL listed ITC per NEC article 727 and PLTC per NEC article 725, and AWM. Also CSA listed AWM I/II, A/B, (FT-4); CSA recognized CMX-OUTDOOR-CMG. Northwire, Inc. is an industry leader in the design and manufacture of industrial grade technical cable. Custom design choices include paired, non-paired, triads, various shielding and grounding options, special insulation options, plus a large variety of conductor and jacket colors. Northwire, Inc. 1001 Prospect Way Osceola, WI 54020 800-468-1516 715-294-2121 www.northwire.com/itc cableinfo@northwire.com For a Free Sample of ITC/PLTC cable call 800-468-1516.
More from Fluid & Gas Flow Equipment