IT Asset Monitoring System integrates RFID capabilities.
Press Release Summary: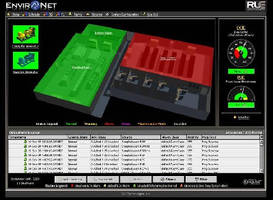 Used to monitor, control, and manage assets within facility, Environet V3 integrates with RF Code's RFID solution that provides information on real-time, exact location, and instant movement of data center and rack assets. Single-pane interface lets clients view various types of monitoring systems with diverse communication protocols. Also, features such as interactive and customizable views, energy cost analysis, and power capacity planning help bridge gap between IT and facilities.
---
Original Press Release:

Environet V3 with RFID



RLE announced today that it has integrated RF Code's active RFID solution into its Environet V3 monitoring system. RF Code is a leading provider of real time active "wire-free" tracking solutions that reduce operating and capital expenses by completely eliminating all manual aspects of tracking critical assets.

With Environet's integrated system, you can monitor, control, and manage assets within your facility. Along with Environet's expansive standard set of features, the addition of active RFID allows users to know in real time the exact location and instant movement of data center and rack assets, including servers and switches.

Environet allows clients to view many types of monitoring systems with various communication protocols in a single pane, easy-to-use Web interface. Environet has numerous features that help bridge the gap between IT and facilities. Interactive views give users a range of facility information, from a top-level look of an entire facility to a detailed view of individual points on a specific unit. Either way, Environet can be customized to fit your needs.

Popular features of Environet include:

Energy Cost Analysis

Power Capacity Planning

User-defined Alarm Thresholds

Customized Views: Global, Dashboard, Equipment, Leak Detection, Thermographic, and more...

Monitoring of Standard Communication Protocols: SNMP, BACnet, Lon, Modbus, Hardwired I/O

By integrating RF Code's active RFID into Environet, users will automatically and instantly see the location of their data center assets. If an asset, such as a server, is moved, added, or changed, the new location of the asset will automatically update on Environet V3.

"With the advent of our Environet V3 featuring active RFID, we have a powerful new tool to help our business partners manage their operations. This tool truly merges facility monitoring and IT-there are no more gaps in information from moves, additions, and changes - everything works as one integrated, efficient system. Environet V3 is robust, customizable, and takes asset management to another level." - Mike Orlich, CEO, RLE Technologies.

No other technology on the market is comparable to the features that are offered by Environet V3. It's an affordable, all inclusive monitoring system that can be integrated with current systems or implemented as a standalone system.

"The integration of our active RFID technology into Environet V3 is a triple play for RLE customers," said Mitch Medford, CEO, RF Code. "The move reduces the cost of managing assets, provides real time asset visibility and gives organizations the ability to monitor their entire critical asset pool. It's a win-win-win for customers."

About RLE Technologies
RLE Technologies is a leading provider of water leak detection and web-based monitoring systems that enable businesses to protect mission-critical infrastructure and lower operating costs. The company's wide range of monitoring solutions includes their patented Falcon(TM) Environmental Monitoring Systems, SeaHawk(TM) Water Leak Detection products and Raptor Integration Solutions (RIS) custom software. Extensive knowledge of communication protocols and emerging technologies has established RLE worldwide as an innovative solutions provider with industry-leading organizations. For further information, visit www.rletech.com.

About RF Code, Inc.
RF Code automates the ability to discover, track and monitor high-value physical assets across the enterprise. Using the company's award-winning platform for real-time, active RFID, customers know instantly and on demand the location, movement, environmental status and history of each individual asset across its lifecycle. This spares customers the high cost, time intensity and compliance risk of a manual inventory and enables customers to better manage the total cost of ownership of their asset inventory. RF Code and its world-class roster of global partners develop solutions used in demanding industry environments including IT, healthcare, defense, pharmaceutical, manufacturing, transportation and homeland security. www.rfcode.com

RLE Contact Information
Cam Rogers
Vice President, Domestic & International Sales
970.232.3934
crogers@rletech.com

Product Images
Jefferie K. Mitchell
Communications Specialist
970.232.3930
jmitchell@rletech.com

Corporate Headquarters
RLE Technologies
104 Racquette Drive
Fort Collins, CO 80524
USA
970.484.6510
970.484.6650 Fax
www.rletech.com

More from Communication Systems & Equipment