Isotope Identifier offers Android smartphone interface.
Press Release Summary: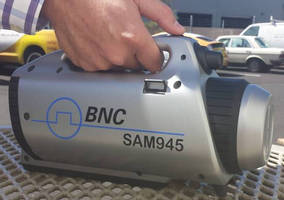 Able to store 10,000+ event files, Model SAM 945 (SAM III) combines spectroscopic isotope identification with ANSI detailing, GPS location, and photography in each report. Ruggedized design, with all cabling and detector probes housed in IP65 rubberized enclosure, can withstand 3 ft drop, and Android platform interface offers controls for collecting spectra and identifying isotopes. Additional features include laser pointer, LED flashlight, and Bluetooth® alarms with various ringer tones.
---
Original Press Release:

Berkeley Nucleonics Releases the SAM 945 (SAM III) Isotope Identifier



Berkeley Nucleonics RIID with smartphone enhancements and reachback, the Model SAM 945 (SAM III), provides first-ever capabilities in one instrument. The company has released the new Isotope Identifier (RIID) in time for the National Radiological Emergency Preparedness conference in Salt Lake City, Utah on April 7, 2014.



The Model SAM 945 is BNC's third generation Isotope Identifier which combines fast spectroscopic isotope identification with ANSI detailing, GPS location and photography all in one report . The instrument is extremely rugged, with all cabling and detector probes housed inside an IP65 rubberized enclosure. The "SAM III", as coined by the Product Line Manager, Robert Corsetti, can withstand a 3 foot drop and is designed to hold up in unforgiving environments.



"The SAM III includes a protective seal to withstand water spray, heavy rain, hose decontamination, sea salt and sand storms. We designed a RIID that can roll around in your trunk or mount to a cutter. The responder community gets what they want, reachback gets the spectroscopy they need" exclaimed Corsetti. "We moved away from proprietary icons and menu structures in favor of widely accepted Smart-Phone tools and technique".



Corsetti is referring to the Android platform interface for the Model SAM 945 which offers users a familiar set of controls when collecting spectra and identifying isotopes. The spectroscopic reports collected in the field are appended with photographs and annotations. The entire report, complete with GPS related data, can be quickly conveyed to incident management, state or federal response agencies or other third party spectroscopy consulting groups.



Other unique features only found in the SAM 945 include a laser pointer, LED Flashlight, Tripod Head Mount and four shoulder strap rings, allowing easy left hand, right hand or hands-free use. Bluetooth alarms with various ringer tones enable users to clandestinely monitor an area without a loud audible alarm. The software to manage your device, as well as the smartphone app, are both included at no cost and upgradable as new versions evolve.



The spectroscopy 'under the hood' is a breakthrough in ANSI isotope identification accuracy and speed. Our faster wavelet transform enables instantaneous results with confidence factors that grow exponentially each second. This new algorithm coupled with real-time background correction provides higher sensitivity, rejection of false positives due to changes in background and a linear energy axis. The library is customizable and color coded, with ANSI being the users default. In addition to isotope details, the user is quickly presented with an isotope class for fast disposition of innocuous alarms. Standard isotope classes include SNM (Special Nuclear Material), MED (Isotopes used in Medicine), NORM (Naturally Occurring Radioactive Materials) and IND (Isotopes used in Industrial Applications). The capacity for storage is specified as >10,000 event files. Each event file includes the spectra, the data and user notes.



To address broader needs in nuclear science, manufacturing and fuel processing, we have preserved our manufacturing philosophy that enables users to customize the SAM 945 in many ways. Some optional features include neutron detection, high resolution gamma detection, expanded libraries and application specific software packages. "A hospital Radiation Safety Officer may be engaged in first responder activities, and then scanning shipments and patients at other times. We offer a solution for long count-time, low-level measurements to high dose readings and turn-back perimeter setup", says Corsetti.



Berkeley Nucleonics will continue it's accredited training programs for the SAM 940 and SAM 945 simultaneously. Our classroom and field exercises are ideal for users new to the radiation detection field or users tasked with developing protocols using a suite of various instruments and technical personnel. Courses are offered on a regional basis and on-site as required by user teams. A series of instructional videos is also offered on the company's YouTube channel that addresses common user needs.



Press Contact:

Bernadette Jamieson, 800-234-7858 x210, bernadette.jamieson@berkeleynucleonics.com



Technical Contact :

Robert Corsetti, 800-234-7858 x250, robert.corsetti@berkeleynucleonics.com



About The Company :

Berkeley Nucleonics Corporation is a leading manufacturer of precision electronic instrumentation for test, measurement and nuclear research. BNC has its corporate headquarters in San Rafael, California with several additional manufacturing facilities and sales offices located throughout the United States. Founded in 1963, BNC has been a recognized leader in the field of isotope identification and conducts hundreds of short courses on radiation detection and isotope identification for Federal and State agencies.

More from Mechanical Power Transmission