Isostatic Presses are suited for food processing industry.
Press Release Summary: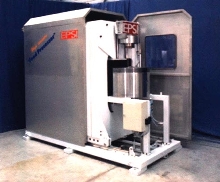 Available in laboratory and production units, isostatic high-pressure presses deactivate microorganisms and enzymes and denaturate proteins and polysaccharides. They apply uniform, simultaneous, and omnidirectional pressure to food products. Non-thermal process subjects food products to isostatic pressure in 100 to 900 Mpa range at room temperature. Process also enhances retention of natural flavors, fragrances, and nutrients in foods.
---
Original Press Release:
Engineered Pressure Systems, Inc. Offers Isostatic High Pressure Technology to the Food Processing Industry

Engineered Pressure Systems, Inc. (EPSI), a world leader in custom-engineered high-pressure solutions, offers its isostatic high-pressure technology to the food processing industry. With over 35 years of knowledge and expertise, EPSI has custom designed numerous food presses for universities, research institutes, and international food concerns. Available in laboratory and production units, EPSI's isostatic high-pressure systems deactivate microorganisms and enzymes, as well as denaturate proteins and polysaccharides.

Food processes using EPSI's high-pressure presses are designed to apply uniform, simultaneous and omnidirectional pressure to food products, and is ideal for meeting the high capacity demands of today's food industry and its requirements for easy and effective sanitation and cleaning of equipment. EPSI's non-thermal process subjects food products to high isostatic pressure, in the range of 100 to 900 Mpa at or around room temperature. This process offers the food industry a unique opportunity to develop high nutritional foods of novel texture, higher safety, and sensory quality, while increasing shelf-life. In addition, EPSI's high-pressure food processing enhances retention of natural flavors, fragrances and nutrients in foods.

About Engineered Pressure Systems, Inc.

Formerly a division of National Forge Company, Engineered Pressure Systems, Inc. is a leading manufacturer of Hot, Cold & Warm Isostatic Press Systems. With its unique application-specific approach to R&D, manufacturing, and testing, EPSI has built a tradition of excellence in high-pressure engineering and technology worldwide.

For more information, contact Engineered Pressure Systems, Inc., 165 Ferry Road, Haverhill, MA 01835. Call 978-469-8280, or Engineered Pressure Systems International, Walgoedstraat 19, B-9140 Temse, Belgium. Call 32 (3) 711 24 64. Visit EPSI on the World Wide Web at epsi-highpressure.com
More from Mechanical Components and Assemblies