Isolation/Power Transformers suit medical applications.
Press Release Summary: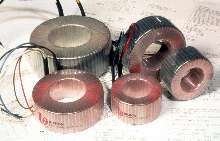 AW Series Toroidal Isolation Transformers and AM Series Toroidal Power Transformers are recognized under UL544 and IEC601-1 safety standards. With power ratings from 100 VA to 3000 VA, 50/60 Hz, transformers can be supplied to meet custom requirements without voiding existing safety recognitions. Toroidal transformers have lower mechanical noise and output impedance than stacked laminated transformers. Applications include image processing and analytical instruments.
---
Original Press Release:

Toroidal Power and Isolation Transformers Recognized Internationally for Medical Equipment


The Bicron AW Series Toroidal Isolation Transformers and AM Series Toroidal Power Transformers are specially designed for medical applications and are recognized under one or both UL544 and IEC601-1 safety standards. Power ratings range from 100VA to 3000VA, 50/60Hz.

Bicron medical power and isolation transformers meet a wide variety of requirements using standard configurations. "Modified Standard" models can be readily supplied to meet custom requirements without voiding existing safety recognitions and with minimum re-engineering and manufacturing setup costs.

Typical applications include image processing, analytical instrumentation, ultrasound imaging, power conditioners, heart rate, APEA and O2/CO2 monitors, ECG analyzers and much more.

Toroidal transformers carry the advantage of lower weight and size, much lower mechanical noise and lower output impedance than stacked laminated transformers. Electromagnetic radiation is also typically very low.

Virtually all transformers in these series are available approximately 4 weeks ARO. Pricing is related to VA rating and quantity.

About Bicron:
Bicron Electronics Company has been a quality electronic product manufacturer since 1964 and is certified under ISO 9001. Bicron designs and manufactures a complete range of standard and custom toroidal power and isolation transformers with power ratings to 10,000VA.

Bicron also designs and manufactures a broad line of standard and custom high reliability magnetic products, including, Current Sensors, High Isolation Voltage Specialty Magnetics as well as a broad line of linear and rotary DC solenoids.

More information, (Power Toroidal Transformer catalog, individual data and spec sheets) may be obtained from:
Bicron Electronics Company
50 Barlow Street
Canaan, CT 06018

Tel: (860) 824-5125
Fax: (860) 824-1137
email: info@BicronUSA.com
Web Page: PowerToroid.com