Isolation Amplifiers utilize delta-sigma AD converter.
Press Release Summary: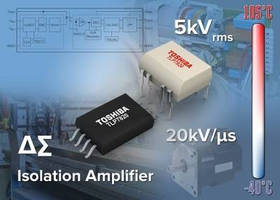 Able to detect small electric current and voltage fluctuations, Models TLP7820 and TLP7920 are suitable for use in inverters, servo amplifiers, robots, and power supplies. Delta-sigma ADC at input side enables linearity of 0.02% (typ.) @ NL (200) for analog output products and 3LSB (typ.) @ INL for digital output products. With Common-Mode Transient Immunity of 20 kV/µs, optical coupled amplifiers offer stable operation in electrically noisy environments. Isolation voltage is 5,000 Vrms (min).
---
Original Press Release:

Toshiba Introduces New High Accuracy Optical Analog Isolation Amplifiers



Achieve High Accuracy Through Delta-Sigma Analog to Digital Converter



IRVINE, Calif., – Toshiba America Electronic Components, Inc. (TAEC)*, a committed leader that collaborates with technology companies to create breakthrough designs, today announced the launch of two new optical coupled isolation amplifiers with a delta-sigma AD converter. The new TLP7820 and TLP7920 can detect small electric current and voltage fluctuations with high-precision, and are suitable for use in industrial equipment applications, including inverters, servo amplifiers, robots and power supplies.



Factory automation equipment operates with a high degree of precision, requiring feedback to the microcontroller to be extremely accurate when it comes to the status of the phase current of the motor or the variation of the bus voltage. To meet these requirements, Toshiba has equipped the new photocouplers with a delta-sigma analog to digital converter at the input side, which enables the industry's highest level of linearity([1) (0.02 percent (typ.)@NL(200) for analog output products and 3LSB(typ.)@INL for digital output products).



The isolation amplifiers also secure a CMTI (Common-Mode Transient Immunity) value of 20kV/ s (typ.), enabling stable operation in electrically noisy environments making them suitable for motor control applications. Isolation is through an optical barrier with an isolation voltage of 5000Vrms (min.). Operating temperature range is -40 to +105 degrees C.



A choice of two package types is available: TLP7920/TLP7930 is supplied in an industry standard DIP8 package, and TLP7820/TLP7830 comes in a new, more compact SO8L package, which takes up 30 percent less board space and has a 40 percent lower profile. 



Line-up and Key Specifications:



Analog output products







Part Number



TLP7820



TLP7920





Package



SO8L



DIP8





Output Type



Single phase output = 0~2.5V





Operation Temperature



-40 to 105 degrees C





 Input Voltage Range



±200mV /±300mV (FSR)





Non-linearity NL200 [±200mV



0.02% (typ.)





Gain Error  Ta=25 degrees C



±0.5 / ±1 / ±3%





Supply Current(Input)



8.6mA (typ.)





Common Mode Transient Immunity



20kV/µs(typ.) @ VCM=1kV, Ta 25 degrees C





Isolation Voltage



5000Vrms





              

Digital output products







Part Number



TLP7830



TLP7930





Package



SO8L



DIP8





Output Type



1bit digital /CLK Output





Operation Temperature



-40 to 105 degrees C





Input Voltage Range



±200mV /±320mV (FSR)





Integral Non-linearity (INL200)



3LSB(typ.)





Gain Error   Ta=25 degrees C



±1% (min/max)





Supply Current (Input)



8.5mA (typ.)





Common Mode Transient Immunity



20kV/µs(typ.) @ VCM=1kV, Ta 25 degrees C





Isolation Voltage



5000Vrms





                                    

 

Pricing and Availability

Toshiba's new photocouplers are available now. Please contact your local Toshiba Sales Office for samples.



*About Toshiba Corp. and TAEC



About TAEC

Through proven commitment, lasting relationships and advanced, reliable electronic components, Toshiba enables its customers to create market-leading designs. Toshiba is the heartbeat within product breakthroughs from OEMs, ODMs, CMs, VARs, distributors and fabless chip companies worldwide. A committed electronic components leader, Toshiba designs and manufactures high-quality flash memory-based storage solutions, solid state drives (SSDs), hard disk drives (HDDs), solid state hybrid drives (SSHDs), discrete devices, custom SoCs/ASICs, imaging products, microcontrollers, wireless components, mobile peripheral devices, advanced materials and medical tubes that make possible today's leading smartphones, tablets, cameras, medical devices, automotive electronics, industrial applications, enterprise solutions and more.



Toshiba America Electronic Components, Inc. is an independent operating company owned by Toshiba America, Inc., a subsidiary of Toshiba Corporation, Japan's largest semiconductor manufacturer and the world's sixth largest semiconductor manufacturer (Gartner, 2014 Worldwide Semiconductor Revenue Estimates, December 2014). Founded in Tokyo in 1875, Toshiba is at the heart of a global network of over 590 consolidated companies employing over 200,000 people worldwide. Visit Toshiba's web site at www.toshiba.co.jp/index.htm.



Notes

[1 As of September 11, 2015. Toshiba survey.



(C) 2014 Toshiba America Electronic Components, Inc. All rights reserved.

Information in this press release, including product pricing and specifications, content of services and contact information, is current and believed to be accurate on the date of the announcement, but is subject to change without prior notice. Technical and application information contained here is subject to the most recent applicable Toshiba product specifications.



CONTACT:

Rebecca Bueno

Toshiba America Electronic Components, Inc.

Web Site: http://www.toshiba.com/taec

More from Agricultural & Farming Products