DC to DC Power Supplies (Converters)
Isolated SMD DC/DC Converters support temperatures to +105°C.
Press Release Summary: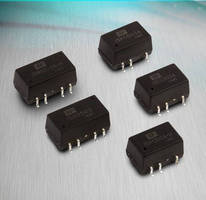 While ISA, ISE, ISH, and ISK series offer unregulated outputs, ISR and ISW have regulated outputs. ISE and ISA ranges provide 1 W output power with respective single and dual unregulated outputs, and ISH is 2 W version of ISE range. ISK offers 0.25 W single output, ISW is 1 W single-output converter, and ISR range provides 3 W single output. Accordingly there are various combinations of single-output models from 3.3–24 Vdc and dual-output models with outputs of ±5, ±9, ±12, ±15, and ±24 Vdc.
---
Original Press Release:

Latest SMD DC-DC Converters Offer Increased Efficiency, Isolation and Temperature Range



XP Power announces six new series of high performance isolated DC-DC converters in industry standard SMD packages. Offered in single and dual output versions the compact 'next generation' devices are available in power ranges from 0.25 to 3 Watts. They have a higher efficiency, increased isolation and an extended operating temperature range compared to existing competitive models in the market.



Both regulated and unregulated output models are available.  The ISA, ISE, ISH and ISK series offer unregulated outputs while the ISR and ISW have regulated outputs.  Exhibiting versatility, the ISE and ISA ranges provide 1W of output power with single and dual unregulated outputs respectively, the ISH is a 2W version of the ISE range, and the ISK offers an unregulated 0.25 Watt single output. In addition the ISW is a 1W single output converter with a regulated output, with the ISR range providing a regulated 3 Watt single output.  Accordingly there are various combinations of single output models from 3.3 to 24VDC, and dual output models with outputs of +/-5, +/-9, +/-12, +/-15 and +/-24VDC. Each series offers up to five +/-10% input voltage ranges or a 2:1 input range on the ISR series.



Offering standard 1,500 or optional 3,000 VDC input / output isolation figures, the converters measure just 0.50 x 0.327 x 0.285" (12.7 x 8.3 x 7.25 mm) for the ISE, ISH and ISK ranges.   The ISA and ISW measure 0.60 x 0.327 x 0.285" (15.24 x 8.30 x 7.25 mm) and the ISR measures 0.94 x 0.54 x 0.31" (23.86 x 13.70 x 8.00 mm).  All have industry standard pin outs. The converters' small size takes up less PCB space allowing designers more room to add extra features, or alternatively to reduce the size of their end product.



The DC-DC converters feature an extended operating temperature range of -40 to +105 degrees C for the ISA, ISE, ISH, ISK and ISR ranges (+85 degrees C for ISW), and full output power up to +100 degrees C is achievable (+85 degrees C for ISR and +70 degrees C for ISW).



The versatile ISA/E/H/K/R/W DC-DC converter ranges from XP Power are suitable for use in application areas including automation and process control, broadcast, instrumentation, mobile communications, and various other compact electronic equipment.



The ISA/E/H/K/R/W series is priced at $3.71 for 500 pcs orders of the ISA model and is available from Newark, Digi-Key, or direct from XP Power and come with a 3 year warranty.



For further information and reader enquiries:



Duane Darrow

XP Power

990 Benecia Avenue

Sunnyvale, CA 94085

Tel: (971)-322-0326 

Fax: (408)-732-2002 

Web: www.xppower.com

Email: ddarrow@xppower.com



William Sng SK

XP Power (Singapore) PTE LTD

Tel: +65 68469368   

Fax: +65 67418730  

Web: www.xppower.com

Email: wsng@xppower.com



For further information, text and graphics by email or to discuss feature article opportunities:



Robert Huntley

Publitek Limited

18 Brock Street

Bath, BA1 2LW, United Kingdom

Tel: +44 (0) 1225 470000 

Fax:  +44 (0) 1225 470047 

Web: www.publitek.com

E-mail: robert.huntley@publitek.com



XP Power is committed to being a leading provider of power solutions, including AC-DC power supplies and DC-DC converters. With ISO9001:2008, XP Power offers total quality, from in-house design through to manufacturing facilities around the world. The company offers the widest range of power products available from one source and unrivalled technical and customer support, aiding both vendor consolidation and cost reduction programmes. XP has 27 sales offices throughout Europe, North America and Asia.



XP Power Ltd, a London Stock Exchange listed public company, has design centres in Fyfield (UK), Orange County (California), and Singapore, which also serves as the company's headquarters. Manufacturing is carried out near Shanghai, China and Ho Chi Minh City, Vietnam. The design teams push back the boundaries of cost and technology, providing market leading power products. Dedicated in-house Engineered Solutions teams provide customer specific solutions, with rapid response times. The applications team provide expert technical support to help customers integrate and use XP power products worldwide.

www.xppower.com

More from Mechanical Components and Assemblies