Isolated Gate Driver supports high-voltage applications.
Press Release Summary: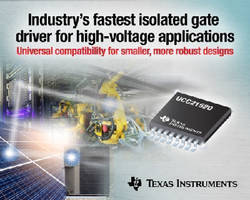 Providing reinforced isolation of 5.7 kVrms, surge immunity up to 12.8 kV, and common-mode transient immunity >100 V/ns, Model UCC21520 is suitable for low-side, high-side, high-side/low-side, or half-bridge power management designs. Dual-channel device delivers propagation delay of 19 ns and channel-to-channel delay matching of <5 ns. Operating with 3–18 V input, driver features 4 A/6 A source/sink current, reducing switching losses via 6 ns rise time and 7 ns fall time for 1.8 nF load.
---
Original Press Release:

TI Introduces the Industry's Fastest Isolated Gate Driver for High-voltage Applications



New reinforced isolated dual-channel driver delivers high-speed propagation delay, strong drive and universal compatibility



DALLAS, -- Texas Instruments (TI) (NASDAQ: TXN) today introduced the industry's fastest 5.7-kVRMS isolated dual-channel gate driver, the first of a new gate driver family in TI's isolation portfolio. The UCC21520's flexible, universal compatibility enables its use as an isolated driver in low-side, high-side, high-side/low-side or half-bridge power management designs. With its integrated components, advanced protection features and optimized switching performance, the UCC21520 enables designers to build smaller, more robust designs for enterprise, telecommunications, automotive and industrial applications. For more details, see www.ti.com/UCC21520-pr.



Developed for high-voltage applications where system protection and reliability are critical, the UCC21520 provides reinforced isolation of 5.7 kVRMS and surge immunity tested up to 12.8 kV, along with common-mode transient immunity greater than 100 V/ns. By delivering the industry's fastest propagation delay of 19 ns and the tightest channel-to-channel delay matching of less than 5 ns, the device enables high power density and efficiency, resulting in smaller solution size and reliable operation over end equipment lifetimes.



Key features and benefits of the UCC21520




Higher power density for smaller solutions: The 4-A source and 6-A sink current of the UCC21520 reduce switching losses via faster rise times of 6 ns and fall times of 7 ns for a 1.8-nF load in high-frequency switch-mode power applications.



Isolation robustness: With its surge protection that has been tested up to 12.8 kV and its noise immunity of greater than 100 V/ns, the new gate driver helps protect end equipment from conditions commonly found in data centers, factories and other high-voltage environments.



Flexibility: With a wide input voltage of 3 V to 18 V, programmable dead-time control, and dual channeling and paralleling of outputs, the UCC21520 gives designers a single, flexible device for multiple applications.



Low power consumption: The device's standby power, as low as 1 mA per channel, helps increase energy efficiency.



Complete power management design to maximize system performance



Engineers can pair the UCC21520 isolated gate driver with a TI controller to optimize their system performance. Analog controllers include the UCC28950 for phase-shifted full bridge designs, the UCC25600 for resonant mode power supplies and the UCC28070 for power factor correction (PFC). TI digital power controllers include the UCD3138 and C2000™ 32-bit microcontroller.



Tools and support to speed design

TI offers a broad range of support tools for the UCC21520 to speed engineers' time to market. Get started now using the UCC21520EVM-286 evaluation module and PSpice/SIMPLIS transient models. Review the block diagram, design files and bill of materials for the TI Designs Reference Design for Reinforced Isolation 3-Phase Inverter with Current, Voltage and Temp Protection (TIDA-00366).



Package, pricing and availability

The UCC21520 is now available in the TI store and through the company's authorized distribution network. The isolated gate driver comes in a 16-pin plastic small outline (SOIC16) wide-body package and is priced at US$2.40 in 1,000 unit-quantities.



Learn more about the UCC21520 and TI gate driver portfolio



Discover TI's gate driver portfolio and isolation solutions.

Watch videos about the power of an isolated driver and dynamic performance of a reinforced isolated dual-channel driver.

Read the Power House blog post, "Why is the cloud isolated?"

Download the application note, "UCC21520: A Universal Isolated Gate Driver with Fast Dynamic Response."

Read the white paper, "High-voltage reinforced isolation: Definitions and test methodologies."

Visit the TI E2E™ Community Power Management forum to search for solutions, get help, share knowledge, and solve problems with fellow engineers and TI experts.



About Texas Instruments

Texas Instruments Incorporated (TI) is a global semiconductor design and manufacturing company that develops analog integrated circuits (ICs) and embedded processors. By employing the world's brightest minds, TI creates innovations that shape the future of technology. TI is helping more than 100,000 customers transform the future, today. Learn more at www.ti.com.



Trademarks

C2000 and TI E2E are trademarks of Texas Instruments. All other trademarks belong to their respective owners.



Web Site: http://www.ti.com

More from Fluid & Gas Flow Equipment