Isofrax® 1400 Fiber meets European regulatory standards.
Press Release Summary: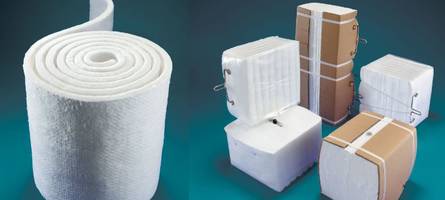 Isofrax® 1400 Low Bio-Persistent Fiber comes with high temperature performance up to 1400°C. Unit offers thermal conductivity, thermal shock resistance and low heat storage. Product features high solubility in simulated body fluids and is available in blanket and module variants.
---
Original Press Release:
Unifrax Launches New Isofrax® 1400 Fiber
Unifrax I LLC ("Unifrax"), headquartered in Tonawanda, New York, USA, has launched their latest low bio-persistent (LBP) fiber Isofrax® 1400. Isofrax 1400 is the latest generation of proven LBP technology, now with enhanced high temperature performance up to 1400°C.
Isofrax 1400 thermal insulation is manufactured using enhanced fiberization techniques combined with new proprietary processing technology to provide customers with improved thermal and physical characteristics. This innovative technology allows Isofrax 1400 to perform at higher temperatures than other LBP fibers currently available in the market. Isofrax 1400 products are the latest innovation derived from the high temperature LBP technology first introduced by Unifrax 18 years ago and will continue to provide excellent thermal conductivity, thermal shock resistance and low heat storage, as well as ease of cutting and fabrication in the worldwide ferrous/non-ferrous metals, chemical processing and ceramics industries.
In addition to higher temperature resistance, Isofrax 1400 fiber has high solubility in simulated body fluids and hence carries no hazard classification, meeting stringent European regulatory requirements. Isofrax 1400 fiber are exonerated from classification as hazardous (tested according to Note Q Regulation (EC) No. 1272/2008). Isofrax 1400 is globally available from Unifrax in both blanket and module product forms.
"Responding to our customers' needs, Isofrax products are the result of ongoing research and development efforts to produce a unique fiber that combines low bio-persistence with high temperature performance. We've improved the physical characteristics of our proven LBP technology; Isofrax 1400 is now better suited for those applications which demand good strength in demanding high temperature applications," explained Christopher McMahon, Unifrax Product Manager in Europe.
Jayne Webb, Unifrax Product Manager, USA also commented, "The enhanced Isofrax 1400 fiber exhibits a higher melting point and reduced shrinkage at high temperatures demonstrating superior thermal performance," said Webb.
About Unifrax: Unifrax I LLC is a leading global supplier of specialty products that are used in many industrial, filtration, automotive and fire protection applications where they save energy, reduce pollution, and improve fire safety. The Company has 26 manufacturing facilities in the United States, Europe, the Middle East, Russia, Asia, South Africa and Latin America. Additional information about Unifrax can be found at www.unifrax.com.
Related