Isodaq Frog RTU Designed for Borehole Monitoring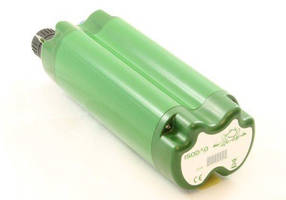 Frog RX GSM/GPRS Datalogger Transmits Real-Time Data via Modem



CHESTERLAND, OH – Ideal for borehole monitoring and other water monitoring applications, the Frog RX GSM/GPRS Data Logger is a rugged IP68 field telemetry device with a difference—it's designed for rapid deployment at a low cost. The FROG RX is a remote outstation to monitor water level or flow and also generates alarms for borehole level, heavy rainfall, flooding and more.



Customers such as the USGS will find the Frog a useful tool—users don't need to deal with the hardware since all data is sent via modem! This logger is ideal for hydrometric applications including groundwater level monitoring in boreholes and in riverside tubes.



While competing products CAN do the job, Isodaq was DESIGNED for it! Order these proven products at a low cost from CAS DataLoggers. Call us today at (800) 956-4437 and save!



Isodaq: Proven Technology:



Isodaq  data  loggers  are  rugged  solutions  enabling organizations  and  businesses  to  perform  water  and environmental monitoring and gain online access to precision measurements at remote sites.



Designed for unattended operation in harsh environments, the Frog RX is the ideal choice for water or drainage monitoring at remote sites. For effective water level measurement, the Frog features precision sensors for flood warning applications in boreholes, reservoirs and rivers.



The Frog RX operates either as a standalone battery-powered data logger or as a telemetry logger, and is available in two alternative firmware versions of 8 or 16 channels. The Frog also enables connection to 'smart sensors' via its SDI-12-compatible multi-channel expansion port, allowing use of flow meters, pressure sensors, water quality probes etc.



Isodaq products are ideal for use by:





Environmental consultants and regulators



Government departments and research organizations



Local drainage and river authorities



Water and Mineral extraction companies



National environmental regulators



Building contractors and developers



Nothing's Simpler: Just Leave the Frog to Log!



Isodaq is much simpler than competing monitoring products, has a much lower price point, and has a shorter installation time and cost. It's easy to install the Frog inside 100mm (4ins) tubes, to strap it onto poles/piezometers or fit it inside ground-level meter boxes without needing a secondary enclosure. Completely self-contained, the Frog RX is sealed to IP 68 against harsh weather conditions and can also withstand full submersion for short periods.



With no IT issues to worry about, Isodaq has no host software to install or learn—just configure and deploy! The Frog automatically sends the data to a PC via the Isodaq webserver so users can view real-time data remotely. For regulatory needs, all measurements are stored in a database accessible over Isodaq's secure RTU server. From there, users can just print it out.



Features:





Single-input IP68 logger with 8 or 16 channel versions



Analog, Digital, and SDI-12 input options



Field-replaceable alkaline or long-life lithium batteries



Digital, analog (16-bit A/D) or SDI-12 smart sensor inputs



Fully waterproofed to IP68 to withstand submersion



Also available as telemetry logger with internal GSM/GPRS modem and antennae



Alarm capability



Internal breather-bag for vented depth pressure sensors.



RTU Software:



Harvest for Windows is the software package used with the Isodaq family of loggers. Harvest is available in versions for both Windows (98, 2000, XP, Vista or 7) and Windows Mobile (3, 5 or 6). The software allows users to set up the logger, configure recording rates alarms, and graph data for all channels. Operators can also  activate a control output on alarm, configure test telemetry modems, export data to CSV or XML format files, and more.



For more information on the Frog RX GSM/GPRS Datalogger, additional Isodaq dataloggers, or to find the ideal solution for your application-specific needs, contact a CAS Data Logger Applications Specialist at 800-956-4437 or visit our website at www.DataLoggerInc.com.



Contact Information:

CAS DataLoggers, Inc.

8437 Mayfield Rd.

Chesterland, Ohio 44026

440-729-2570

800-956-4437

sales@dataloggerinc.com

www.dataloggerinc.com

More from Software