IsoComforter's Shoulder Pad offers accurate therapeutic temperature ranges.
Press Release Summary: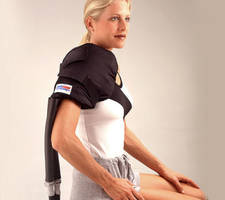 IsoComforter's Shoulder Pad helps to reduce pain by passing cold water which provides stable heat transfer to the injured area. Unit can be used for different body parts and features single flow design. Product is silicone free and comes with foam insulation and hose which helps to prevent condensation.
---
Original Press Release:
IsoComforter Introduces Newly Improved Shoulder Pad
IsoComforter launches a newly designed shoulder pad for cold therapy.
IsoComforter, Inc. ( https://isocomforter.com ), one of the Nation's premier providers of cold therapy products, announced today the introduction of an innovative new design of the shoulder pad. The shoulder pad provides optimal support and full contact of the multipurpose pad so you get maximum comfort while controlling your pain while using cold therapy. By utilizing ice and water that is circulated from an insulated fluid reservoir to a pad that is applied to your injury or post op site, the system provides continuous cold therapy for an extended period of time between ice changes. The IsoComforter shoulder pad is engineered to sustain a constant temperature range without manual mechanical controls. The result is an easy to use cold therapy system that provides safe, effective heat transfer at the optimal therapeutic temperature range. The IsoComforter cold therapy machine produces a very comfortable "cold" that is more easily tolerated by patients and the low-profile shoulder pad ( isocomforter.com/product/cold-therapy-unit-with-iso-tube-shoulder-pad ) provides a comfortable way to wear the cold therapy pad, even if you are wearing a sling. It has been proven to notably reduce swelling and pain... often with less dependency on pain relievers.
The IsoComforter IsoTube pad system is specifically designed for different body parts and applications. It delivers comfortable cold therapy with accurate therapeutic temperature ranges that allow for longer-term application. The constant flow of cold water provides a more stable heat transfer to the area. Cold water moving rapidly over an area is less likely to injure you than ice sitting directly on the skin, causing burns.
IsoComforter's patented cold therapy pads are Silicone free and resists flow restrictions and stiffening and conform better to body contours. The flow pattern assures a consistent temperature across the pads for uniform therapy, while the foam insulation on the pad and hose helps prevent condensation.
IsoComforter's patented Iso-Tube pads are designed to completely disperse cold therapy across the cooling surface of the pad due to the single flow design. The water flows in one direction allowing for high flow heat transfer.
For years Isocomforter has proven itself in real-world conditions on patients that have reported exceptional outcomes when using our product. Professional and amateur athletes use cold therapy routinely to keep the performing at their best.
For the ultimate in cold therapy treatment, trust IsoComforter. It's easy to use and proven effective.
More from Construction Equipment and Supplies