ISM2.4 GHz Filters use Surface Acoustic Wave technology.
Press Release Summary: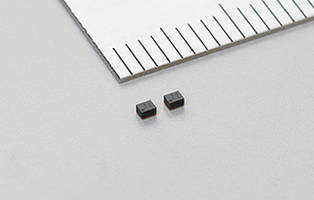 Featuring low insertion loss filter and steepness characteristics, ISM2.4 GHz Filters are used in Wi-Fi RF circuits in smartphones and tablets. Featuring stable temperature characteristics, units prevent mutual interference with LTE bands.
---
Original Press Release:
Murata Introduces High Performance ISM2.4 GHz Filter Applying I.H.P. SAW Technology
Overview
Murata Manufacturing Co., Ltd. has released a SAW filter (1.1 x 0.9 mm) for Wi-Fi (ISM2.4GHz) that achieves greater steepness, insertion reduction and temperature characteristic stability compared to conventional models using the company's new proprietary SAW technology (I.H.P. SAW*3). Mass production will begin in June 2017.
Supplementary Notes
Current smartphone and tablet devices require Wi-Fi (ISM2.4GHz) functionality. Band7/30/40/41 and other LTE bands have seen increased use near the 2.4 GHz band in recent times, and with this there are increased calls for Wi-Fi (ISM2.4GHz) filters to come equipped with greater steepness and low insertion loss filter characteristics, in addition to stable temperature characteristics in order to prevent mutual interference with these LTE bands. Providing support for such was difficult with conventional SAW devices, giving competitor company filters based on BAW technology the advantage in this field. With the application of a proprietary SAW technology (I.H.P. SAW) allowing for the transmission of SAW energy with greater efficiency, Murata has successfully developed a Wi-Fi (ISM2.4GHz) filter with characteristics (steepness, low insertion loss, temperature characteristics) notably superior to that provided by conventional BAW technology.
Features
High-Q performance with I.H.P. SAW technology offers low insertion loss and greater steepness filter characteristics
Superior temperature characteristics, a defining feature of I.H.P. SAW
A flexible production system derived from the inheritance of SAW processes
Application
Wi-Fi (ISM2.4GHz) RF circuits in mobile devices such as smartphones and tablets
Part number
SAFQ 2G45MA0G0A series
Production
Mass Production will begin in June 2017.
Murata in Brief
Murata Manufacturing Co., Ltd. is a worldwide leader in the design, manufacture and sale of ceramic-based passive electronic components & solutions, communication modules and power supply modules. Murata is committed to the development of advanced electronic materials and leading edge, multi-functional, high-density modules. The company has employees and manufacturing facilities throughout the world. For more information, visit Murata's website at www.murata.com