ISM Power Amplifier targets cordless applications.
Press Release Summary: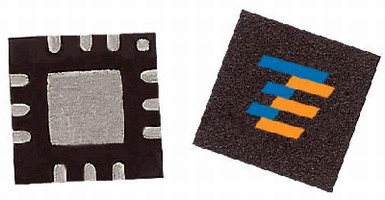 Operating from 2.4-2.5 GHz, dual-mode M/A-COM MAAPSS0081 features integrated power enabler pin providing ramp control and separate power mode pin for current savings in low power mode state. In High Power Mode, amplifier generates 25 dBm of output power while drawing 300 mA of current, and in Low Power Mode, output power is 17 dBm with current of 110 mA. Housed in RoHS-compliant, 3 mm PQFN package, unit has typical power gain of 25 dB with operating voltage of 2.5-3.0 V.
---
Original Press Release:

Tyco Electronics Introduces New Dual Mode 2.4 - 2.5 GHz ISM Power Amplifier



Low-Cost, RoHS Compliant Amplifier Ideally Suited for Applications that Require Low Control Voltage and High Performance

LOWELL, Mass. - September 13, 2007 - Tyco Electronics today launched the M/A-COM MAAPSS0081, a new 2.4 - 2.5 GHz ISM three-stage power amplifier specifically designed for cordless applications that require both low control voltage and high performance. With its wide voltage operating range, the MAAPSS0081 is a dual-mode power amplifier which maximizes system performance while reducing DC power consumption.

"The M/A-COM MAAPSS0081 features an integrated power enabler pin providing accurate ramp control and a separate power mode pin for current savings in the lower power mode state," said David Folding, product manager, Tyco Electronics. "Additional power savings are achieved with a voltage compensation circuit, which is included specifically for applications where the amplifier supply voltage is not regulated and is directly connected to the battery. As a result the M/A-COM MAAPSS0081 is one of the most versatile and cost-effective power amplifiers available on the market today."

In the High Power mode, the amplifier generates 25 dBm of output power while drawing 300 mA of current. In Low Power mode, the output power is 17 dBm with a current of 110 mA. The M/A-COM MAAPSS0081 has a typical power gain of 25 dB with an operating voltage of 2.5 to 3.0 V. The amplifier is housed in a RoHS compliant 3mm 12-lead PQFN package.

Pricing and Availability
The M/A-COM MAAPSS0081 is available from stock and is priced at $0.35 for quantities of 100,000. Please contact Tyco Electronics' M/A-COM domestic and international sales channels for price and delivery information. Data sheets and supporting technical documents are available online at www.macom.com.

ABOUT TYCO ELECTRONICS
Tyco Electronics Ltd. is a leading global provider of engineered electronic components, network solutions and wireless systems, with 2006 sales of US$12.8 billion to customers in more than 150 countries. We design, manufacture and market products for customers in industries from automotive, appliances and aerospace and defense to telecommunications, computers and consumer electronics. With over 8,000 engineers and worldwide manufacturing, sales and customer service capabilities, Tyco Electronics' commitment is our customers' advantage. More information on Tyco Electronics can be found at www.tycoelectronics.com.

o M/A-COM, the TE Logo and Tyco Electronics are trademarks.

o Other products, logos, and company names mentioned herein may be trademarks of their respective owners.

For sales information, please contact:
M/A-COM, Inc.
1011 Pawtucket Blvd.
Lowell, MA 01853

Americas -- 1-800-366-2266
Europe/Middle East/Africa -- +44 1908-574-200
Asia/Pacific -- 81-44-844-8296

More from Paints & Coatings