ISM Band RF Transceiver employs FHSS technology.
Press Release Summary: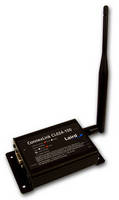 Supplied in 4.4 x 2.7 x 1.4 in. diecast enclosure, CL024 operates in license-free 2.4 GHz Industrial, Scientific, and Medical (ISM) band. Radio utilizes Server/Client architecture for point-to-point or point-to-multipoint communications with unlimited number of Clients in network, API commands to control packet routing, and communication with serial UART speeds up to 460.8 Kbps. RS232 interface allows integration with legacy data systems, and conducted output power is rated up to 125 mW.
---
Original Press Release:

Laird Announces New RF Transceiver with Frequency Hopping Spread Spectrum Technology



CL024 transceiver for long distance serial cable replacement



Laird, a global technology company, announced the release of the CL024 transceiver from its Embedded Wireless Solutions unit. The CL024 transceiver is a Frequency Hopping Spread Spectrum (FHSS) radio designed for license-free operation in the 2.4 GHz Industrial, Scientific and Medical (ISM) band. Mass production quantities of modules are available now from all Laird global distributors as either stand-alone units or in preconfigured starter packs for point-to-point networks.



The main benefit of the CL024 is the use of Frequency Hopping Spread technology. This enables multiple networks to co-exist in the same area with limited interference. This FHSS technology ensures data reliability over long distances. In addition, the license-free frequency bands (2.4 GHz Industrial, Scientific and Medical (ISM)) verify that the units are ready for use with no further certification requirements when designing into a new or legacy data system.



"The CL024 utilizes the RF engine of the popular RM024 embedded modules in a packaged form which allows anyone to easily set up long range point-to-point or point-to-multipoint networks for serial communication," said Chris Downey, product manager for Laird.



The CL024 RF transceiver is housed in a compact and rugged diecast enclosure, enabling long distance serial cable replacement with its wireless link. The radio features an RS232 interface for integration into legacy data systems, providing for backwards compatibility. The radio has a compact size of 4.4 x 2.7 x 1.4 inches and a conducted output power up to 125 mW (21dBm) and available antennas up to 9dBi for a maximum radiated power of one watt (30dBm). Each unit is small and easily portable for use in mobile and temporary settings as well as fixed installations.



The CL024 transceiver utilizes a Server/Client architecture for point-to-point or point-to-multipoint communications with an unlimited number of Clients in a network, API commands to control packet routing and reliable communication with serial UART speeds up to 460.8 Kbps.



With its world-class engineering and RF expertise, Laird continues to develop technologies and capabilities that make a wirelessly connected world possible.



Embedded wireless solutions from Laird include Summit Wi-Fi radio modules, a full line of Bluetooth® radio modules and innovative RAMP radio modules. These unique product solutions are ideal for applications in the industrial, medical, and M2M communications industries.



Contact Information



For additional information, visit http://www.lairdtech.com or contact us at:

Americas: +1-800-492-2320

Europe: +44-1628-858-940

Asia: +852-2932-0610

Email: WirelessInfo@lairdtech.com



Translations



Translated versions of this press release are available in Simplified and Traditional Chinese, Japanese, Korean, and German languages.



About Laird Technologies, Inc.



Laird is a global technology business focused on enabling wireless communication and smart systems, and providing components and systems that protect electronics. Laird operates through two divisions, Wireless Systems and Performance Materials. Wireless Systems solutions include antenna systems, embedded wireless modules, telematics products and wireless automation and control solutions. Performance Materials solutions include electromagnetic interference shielding, thermal management and signal integrity products. As a leader in the design, supply and support of innovative technology, our products allow people, organisations, machines and applications to connect effectively, helping to build a world where smart technology transforms the way of life.



Custom products are supplied to major sectors of the electronics industry including the handset, telecommunications, IT, automotive, public safety, consumer, medical, rail, mining and industrial markets. Providing value and differentiation to our customers through innovation, reliable fulfilment and speed, Laird PLC is listed and headquartered in London, and employs over 9,000 people in more than 58 facilities located in 18 countries.



Trademarks



© 2013 All rights reserved. Laird, Laird Technologies and the respective logos are trademarks owned by Laird Technologies, Inc. and/or Laird PLC, either directly or indirectly through one or more subsidiaries. Other products, logos, and company names mentioned herein, may be trademarks of their respective owners.



Contact information: Jannette Avila, Laird Technologies, 3481 Rider Trail South, Earth City, MO 63045