ISC Engineering Implements 5S Workstations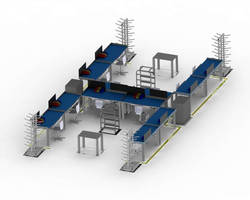 ISC Engineering is committed to meeting customer requirements and increasing customer satisfaction through continual improvement of our quality management system. The most recent step we've taken in our lean journey is implementation of 5S on our production floor. This was a significant investment for our company and our goal is to bring higher quality products to our customers in shorter lead times, by increasing productivity. Training our employees and allowing them to be an active part of these types of exercises brings a new level of ownership, and enables employees to take pride in their workplace while aiding in the continuous improvement of our business. Our new approach is the latest advance in an effort to help increase the management of our resources and improved efficiency.



A 5S program focuses on organization using visual aids, cleanliness and standardization. The foundation of 5S is sort, set in order, shine, standardize and sustain.  Some of the benefits of a properly implemented 5S system are improved efficiency, safety, ease of use and time management control. A workspace with clear organized labeling allows workers to replace items in their designated location, helping eliminate excess waste.



Taking on a 5S system is no small feat. We started with removing any unnecessary clutter from our manufacturing floor. Sorted through the items and we were able to visually create a specific location for all components of manufacturing, utilizing taped off areas so all items had a home. This helped create a cleaner, leaner manufacturing format to continually build upon and lay the groundwork for long-term sustainability. At the end of the day we have a standardized practice which best accomplishes our vision as a company and helps us keep pushing forward.





More from Construction Equipment and Supplies