IronHorse(TM) Worm Gearboxes now Available from AutomationDirect®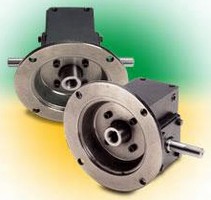 Cumming, GA --- June 18, 2008 --- AutomationDirect has expanded its mechanical power transmission product line to include worm gearboxes in four frame sizes, and six gear ratios from 5:1 to 60:1. Constructed of cast iron one-piece housings, the worm gearboxes feature a C-flange input and carbon steel shaft with either right-hand or dual shaft output.

Manufactured by one of the world's leading worm gearbox suppliers, IronHorse worm gearboxes have double-lipped embedded oil seals to prevent leakage. Designed to change drive direction by 90 degrees, IronHorse gearboxes are mountable in any direction, except motor pointing up. The universally interchangeable compact design ensures easy OEM replacement.

The main gear is constructed of an aluminum bronze casting, which is much harder than typically-used phosphor bronze. A one-piece output shaft hub is designed to secure the heavy-duty output shaft bearing, and double bearing sets are on both shaft ends.

IronHorse worm gearboxes are ideal for use with electric motors for reducing output speed, increasing torque, changing drive direction, or running two loads from one motor. Prices start at $130;the full line is available for same-day shipping, and is backed by a one-year warranty. Optional mounting bases are also available, with prices starting at $13.View the complete line of IronHorse gearboxes at www.automationdirect.com/worm-gearboxes.

AutomationDirect sells over 6,500 feature-packed products through its Online Automation Superstore and 2,000-page catalog. The company offers its customers high-quality automation products at prices well below the industry average, 24-hour order entry with same-day shipping on in-stock items, the best documentation in the industry, and award-winning sales and technical support. For a free catalog, visit their Web site at www.automationdirect.com or call 800-633-0405.