IR Tile Remover allows lifting of asbestos tiles intact.
Press Release Summary: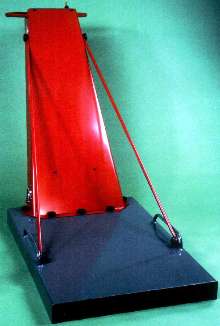 Modular Novastrip infrared tile remover heats tiles and allows them to be lifted intact, preventing release of harmful dust or hazardous material. Novastrip 196 has 14 x 14 in. footprint, while Novastrip 1026 has 28 x 48 in. footprint. Latter removes up to twelve 9 x 9 in. or six 12 x 12 in. tiles at once. Both models feature solid-state electronics and rapid heat-up and cool-down. Heat panel features individual ceramic emitter strips on heat element.
---
Original Press Release:
Novatek Infrared Tile Remover Allows Lifting of Asbestos Tiles Intact
The Novastrip infrared tile remover from Novatek heats tiles and allows them to be lifted intact thus preventing the release of harmful dust or hazardous material as would be found with asbestos tiles. This reduces clean up on the job as well as overall cost. Two models are offered, the Novastrip 196 with a 14" x 14" footprint and the Novastrip 1026 with a massive 28" x 48" footprint. The latter model can remove up to twelve 9 ' x 9" tiles or six 12" x 12" tiles at one time. Both models feature reliable solid state electronics for precise heating. Rapid heat-up and cool down assures efficient operation. The Novastrip units include a number of convenience and safety features. A key switch assures that only authorized personnel can operate the units. An emergency stop button is provided and a timer shuts the machine off should it be unintentionally left on. A circuit breaker is also included. The units are a modular design and fully assemble and disassemble in less than five minutes for easy transport. The Novastrip 1026 weights only 88 lbs and the Novastrip 196 40 lbs. when disassembled, components can even ship UPS. The heat panel features individual ceramic emitter strips on the heat element. If replacement is required, individual strips can be changed with no need to replace the entire heat panel. All components are UL and CE listed and are covered by a one year warranty. Novatek and Trelawny products are used in the construction, marine, industrial, utility, remediation and other industries for floor and surface preparation, rust removal, descaling, hazardous material removal and recovery. For more information, contact Novatek Corporation, Pickering Creek Industrial Park, 155 Philips Road, Extort, PA 19341. Toll Free 866-563-7800. Phone 610-363-7800. Fax 610-363-9620. Website: www.novatekco.com. Email: sales@novatekco.com.
Related