Pyrometers and Infrared Thermometers
IR Thermometer monitors high-temperature reactors.
Press Release Summary: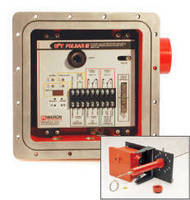 Designed for continuous-duty monitoring, Mikron PULSAR III aids in reaction furnace temperature control. Non-contact solution exceeds T/C temperature ranges in one, linear, and continuous scale of 662 to 3,632°F. Two wavelengths can be measured using same optics for continuous and instantaneous measurement of Refractory Temperature, Gas Temperature, and Integrated Temperature in vessel away from heat, vibration, and corrosive gases.
---
Original Press Release:

LumaSense Technologies Introduces Mikron PULSAR III Two-Channel Infrared Temperature Measurement System



LumaSense Technologies, a leading provider of infrared thermography, non-contact temperature and gas sensing solutions, today announced a unique new generation of temperature measurement solutions designed specifically for continuous-duty monitoring of high temperature reactors of all kinds, based on the new PULSAR III.

The Mikron PULSAR III infrared thermometer is a crucial component for control of the reaction furnace temperature, thus preventing damage to the refractory at high temperatures and ammonium salt from plugging the converters at low temperatures. Installations that use the reaction furnace to incinerate waste gases such as ammonia and hydrocarbons must maintain an adequate temperature to assure the breakdown of these components. Advanced processes such as O2 enrichment normally involve higher temperatures and demand close monitoring.

The most common limitation of the typical infrared thermometer is its narrow single scale limits. The PULSAR III is designed to replace narrow scale pyrometers, thermocouples (T/C) and resistance temperature detectors (RTDs) where performance is marginal, unreliable or impractical. Through computer calibration and advanced electronics, Mikron has produced a non contact thermometer exceeding T/C temperature ranges in a single, linear and continuous scale of 662 to 3632°F (350 to 2000°C). Unlike its predecessor, the PULSAR II, the PULSAR III is designed to measure two wavelengths using the same optics for continuous and instantaneous measurement of Refractory Temperature (RT), Gas Temperature (GT) and Integrated Temperature (FF) in the vessel away from the heat, vibration and corrosive gases. The PULSAR III includes digital communication and control software with the advanced Mikron Flame Management Algorithm (FMA). This exclusive algorithm compensates for flame and refractory crosstalk between channels allowing for an accuracy of Flame and Refractory temperature measurements never before achieved.

"With the latest generation of PULSAR infrared thermometers, we show that accurate control of combustion processes, refractory cure-out and preventative maintenance while the vessel is fully operational maintenance is possible," comments Brett Sargent, Vice President of Sales for LumaSense Technologies. "Companies Worldwide look to Mikron for accurate infrared temperature data using innovative technology and providing exceptional quality and performance. The PULSAR III is following this trend of superior products provided to the marketplace."

About LumaSense Technologies(TM)
LumaSense Technologies is a global leader in providing temperature and gas sensing solutions to industrial, energy, medical and clean technology markets. We design and manufacture sensors for end-user and original equipment manufacturers (OEMs) applications. LumaSense has proven expertise in developing state of the art infrared and fiber optic temperature sensors, radiometric thermal imagers, and gas analyzers. A common theme in our sensors is the use of infrared (IR) light to provide robust, accurate sensors for demanding environments, applications and customers. With Worldwide offices located in Asia, Europe and the Americas, LumaSense Technologies is backed by Oak Investment Partners, a leading multi-stage venture capital firm with a 28-year history and Element Ventures, a leading venture capital investor in clean technology.

More from Material Handling & Storage