Pyrometers and Infrared Thermometers
IR Thermometer features 15-1 optical spot range ratio.
Press Release Summary: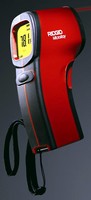 Using class II laser, non-contact RIDGID® MicroRay(TM) IR-100 offers trigger activation for immediate temperature measurement. Smart measuring feature lets users adjust emissivity setting via menu bar to match type of material being measured. Able to measure 2 in. spot on heating vent from 2½ ft away, unit offers sensitivity reading from -22 to +932°F within ±1.5% of accuracy (2.7°). It also provides Max and Min differential reading option, audible alarms, and backlit LCD.
---
Original Press Release:

Ridge Tool Introduces New RIDGID® MicroRay(TM) IR-100 Thermometer with Advanced Measurement Accuracy



ELYRIA, OHIO - July 2006 - Ridge Tool Company recently introduced the RIDGID® MicroRay(TM) IR-100 non-contact infrared thermometer, which provides fast, accurate temperature readings without users having to contact the object being measured. Users simply point the ultra-sharp class II laser at the object and pull the trigger for an immediate temperature measurement on a clear, backlit LCD display.

The RIDGID MicroRay's advanced accuracy and other capabilities make it a useful energy audit and quality assurance tool for a variety of applications, including facility management, maintenance, HVAC/R, electrical, plumbing, automotive, food processing/service and other manufacturing processes.

The RIDGID MicroRay IR-100 gives users accuracy at the best value in its class. It has a sensitivity reading from -22 F to 932 F (-30 C to 500 C), within +/- 1.5 percent of accuracy (2.7 degrees). It also offers a large 15-1 optical spot range ratio, which means for every 1-inch of spot diameter, a user can accurately gauge the temperature from 15 inches away. For perspective, this means a user could accurately measure a 2-inch spot on a heating vent from 2-1/2 feet away. The same user may have to be 1-1/2 feet away, using typical IR thermometers. So if an obstruction prevents the user from getting closer, he would be unable to duplicate the accurate measurement offered by the MicroRay IR-100.

The MicroRay also offers a "smart" measuring feature that ensures greater accuracy across a wider range of materials. Since common materials emit heat at varying rates, it is important to adjust for this variability when measuring temperatures. Typical non-contact thermometers require end users to apply tape or paint to the object being measured in order to standardize their temperature readings. The RIDGID MicroRay IR-100, by contrast, allows users to quickly adjust the emissivity setting, via the tool's menu bar, to match the type of material they are measuring, thereby eliminating additional steps and inconvenience. A list of common materials' specific emissivity values is included with each unit for easy reference.

For additional features and settings, users can toggle through the unit's menu bar. For example, a maximum and minimum differential reading option allows users to preprogram maximum and minimum temperature readings or set high/low audible alarms.

The RIDGID MicroRay IR-100 operates on one 9-volt battery, which is included. A tripod option is available for users who need to ensure the MicroRay is stationary when taking temperature readings.

"The development of the RIDGID MicroRay IR-100 is a natural progression for Ridge Tool because we have successfully developed advanced diagnostic equipment for the plumbing and utility markets," said Rick Barone, product manager, Ridge Tool. "With energy efficiency likely to remain an important issue for decades to come, the MicroRay is the perfect tool for a variety of professionals and offers advantages that end users expect from RIDGID products."

Like all RIDGID products, the MicroRay IR-100 is backed by a full lifetime warranty.

Ridge Tool Company, a leading manufacturer of hand and power tools, markets its products in more than 130 countries. The company's broad offering includes threading and drain cleaning machines, and more than 300 types of tools serving the rental, plumbing, HVAC/R, industrial, electrical, petroleum, institutional, commercial and hardware markets. Ridge Tool is a subsidiary of St. Louis, Missouri-based Emerson. Emerson is a global leader in bringing technology and engineering together to provide innovative solutions to customers through its network power, process management, industrial automation, climate technologies, and appliance and tools businesses.

For additional information on the RIDGID MicroRay IR-100, please visit www.ridgid.com, call toll free: 1-800-769-7743, or contact Ridge Tool Company, 400 Clark St., Elyria, Ohio 44036 U.S.A.

Please send reader inquiries to: Ridge Tool Company, c/o Ultimate Lead, P.O. Box 739, Berea, OH 44017-0739. Or, call 1-800-769-7743 for more information.