Temperature Sensors / Detectors / Transducers
IR Temperature Sensors feature teachable technology.
Press Release Summary: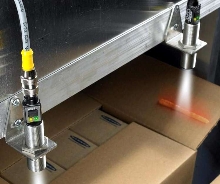 Non-contact, passive T-GAGE(TM) sensors detect objects that are hotter or colder than ambient condition and trigger output. Set-up is facilitated via Manual or Dynamic TEACH-mode push-button programming, which requires no potentiometer adjustments. Able to operate even if product is not moving, sensors detect temperatures from 0-300°C and changes as small as 3°C. Self-contained unit has stainless steel barrel construction and 25 msec response time.
---
Original Press Release:

New Non-Contact Infrared Temperature Sensors Feature Advanced Teachable Technology


Minneapolis, MN-August 19, 2005-Banner Engineering has introduced new T-GAGE(TM) temperature sensors. These passive, non-contact temperature-based devices detect objects that are either hotter or colder than the ambient condition and then trigger an output. They are extremely easy to set up because they use Banner's advanced TEACH-mode push-button programming that requires no potentiometer adjustments.

Joe Dolinsky, Banner's Magnetic and Temperature Sensor Product Manager stated, "Thanks to advances in manufacturing and reduced costs of thermopile components, Banner temperature sensors offer a low-cost, robust solution to what once was an expensive sensing challenge. Priced as low as $229.00, Banner T-GAGE sensors cost half that of the nearest comparable product."

Applications. T-GAGE sensors are especially useful for monitoring production lines. They operate even if the product isn't moving and can sense temperature changes as small as 3° C. T-GAGE sensors are ideal for a wide variety of applications in the process, food production, assembly, packaging, materials handling, and general manufacturing industries including the following:

Detecting hot products such as baked goods, metals and bottles

Detecting cold products, including frozen foods, ice and dairy

Monitoring process equipment and fixture temperature

Monitoring packaging, binding and gluing thermal processes

Detecting hot parts and verifying ejection

Monitoring heated or chilled rollers

Numerous features of the T-GAGE(TM) make it particularly easy to install and use:

Fast 25 millisecond response time accommodates production line speeds

Small, self-contained package doesn't require an external controller

Setup is quick and easy using an on-board TEACH push button or remote cable

Dynamic TEACH mode allows the sensor to learn two sensing conditions on-the-fly and automatically set the switchpoint

Manual TEACH mode allows the user to program the sensor for two distinct temperature switchpoints

Stainless steel barrel construction and fully encapsulated electronics is rated IP67 for harsh sensing environments

Provides a wide temperature sensing range from 0¾ to 300° C

Advanced Monitor software allows for threshold adjustment and real-time information display through a PC

Specifications. The T-GAGE sensor operates from 10 to 30V dc. It features solid-state bipolar outputs: one current sourcing (PNP) and one current sinking (NPN). Output timing options include ON-delay, OFF-delay, retriggerable, one-shot, pulse stretches and more. It is available with a 2 m or 9 m unterminated cable, or 5-pin Euro-Style quick-disconnect option. Lens options include integrated lens for general purpose use, enclosed plastic face for food applications and germanium lens for narrow field of view.

About Banner. Banner Engineering is the world's leading manufacturer of photoelectric and ultrasonic sensors, vision sensors, fiber optic assemblies, electronic machine guarding systems and precision measurement systems.

For further information, contact Banner Engineering Corp., 9714 Tenth Avenue North, Minneapolis, MN 55441. PH: 888-373-6767 (toll-free North America) or 001-763-544-3164 (International). FAX: 763-544-3213. Email: sensors@bannerengineering.com. E-commerce: buybanneronline.com. Web: www.bannerengineering.com.

More from Fluid & Gas Flow Equipment