IR LEDs offer optical efficiency for security applications.
Press Release Summary: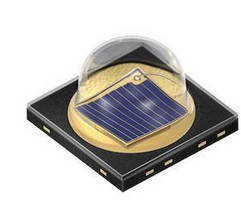 Measuring 3.85 x 3.85 x 2.29 mm and 3.85 x 3.85 x 1.51 mm, respectively, Models SFH 4715A and SFH 4716A provide optical output of 800 mW enabling infrared illumination over 100 m. Model SFH 4715A features beam angle of 90°, electro-optical efficiency of 48%, ESD protection up to 2 kV, and extended corrosion resistance making it suitable for outdoor applications, such as CCTV systems. Model SFH 4716A, offering beam angle of 150° can effectively inject light into reflector optics.
---
Original Press Release:

New Infrared LEDs from Osram Offer Unprecedented Optical Efficiency for Security Applications



30% increase in output enables infrared illumination over 100 m



The new Oslon Black SFH 4715A infrared LED (IRED) from Osram Opto Semiconductors offers a typical electro-optical efficiency of 48% – a figure never before achieved with opto-electronic elements. It also achieves a substantial reduction in cooling requirements, providing much longer service life. Another new product in the Oslon Black family, the SFH 4716A, has a beam angle of 150°, permitting particularly narrow-angled imaging for camera-based lighting applications by using reflector optics.



The SFH 4715A's typical electro-optical efficiency of 48% is possible thanks to the latest chip generation and the optimized package. "We are not aware of any other opto-electronic component with an optical efficiency to rival this one," explains Sevugan Nagappan, Product Marketing Manager at Osram Opto Semiconductors. Thanks to a boost in output to 800 mW (previously 630 mW), the new Osram IRED can illuminate objects over 100 m away depending on the application and type of external optics. What's more, this higher output generates more light, improving the image in the process. "The new SFH 4715A can almost match a laser diode in terms of efficiency, allowing for greater ranges than the previous members of the Oslon Black family. The same range can be achieved with fewer components – yielding a significant cost benefit," Nagappan said, adding that the system cooling requirements have also been reduced.



Use in camera-based outdoor security systems

The new A-version of the SFH 4715 IRED, with its much higher output and beam angle of 90°, will be replacing the previously available Oslon Black SFH 4715. ESD (electrostatic discharge) protection for up to 2 kV and extended corrosion-resistance make the new IRED ideal for outdoor applications, for instance in CCTV systems.



150° beam angle for efficient injection into reflector optics

The SFH 4716A is the second new high-flux IRED in the Oslon Black family. It can inject light into reflector optics very effectively and has a beam angle of 150°. It rounds off Osram's product portfolio as a light source for applications requiring efficient imaging.



More information on the Oslon Black family from Osram Opto Semiconductors is available in the product catalog.



Technical data of the SFH 4715A/SFH 4716A:

Package size 3.85 mm x 3.85 mm x 2.29 mm  /  3.85 mm x 3.85 mm x 1.51 mm

Optical output at 1A 800 mW (previously 630 mW)

Spectral centroid 850 nm

Efficiency Typically 48%

Thermal resistance max. 11 K/W

Beam angle 90° / 150°



ABOUT OSRAM OPTO SEMICONDUCTORS

OSRAM, Munich, Germany is one of the two leading light manufacturers in the world. Its subsidiary, OSRAM Opto Semiconductors GmbH in Regensburg (Germany), offers its customers solutions based on semiconductor technology for lighting, sensor and visualization applications. Osram Opto Semiconductors has production sites in Regensburg (Germany), Penang (Malaysia) and Wuxi (China). Its headquarters for North America is in Sunnyvale (USA), and for Asia in Hong Kong. Osram Opto Semiconductors also has sales offices throughout the world. For more information go to www.osram-os.com.

 

Press Contact:

Kate Cleveland

Tel.  248-277-8018

Fax   248-596-0395

Email kate.cleveland@osram-os.com



Technical Information:

OSRAM Opto Semiconductors

Tel. 866-993-5211

Email info@osram-os.com

More from Explosives, Armaments, and Weaponry