Ipsen Ships Furnaces for Use in Aerospace, Energy and More, Providing Extensive Global Support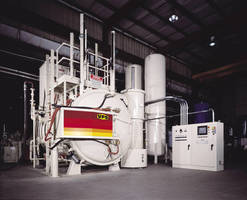 CHERRY VALLEY, IL – Recently, Ipsen shipped more than 15 furnaces to customers in the United States, England, Canada, India, Indonesia, Mexico and Singapore. This selection of furnaces was designated for use in a range of applications and industries, including Aerospace, Commercial Heat Treating, Energy, Medical and Tool and Die.

The equipment included horizontal and vertical MetalMaster®, TITAN®, TurboTreater® and VFS® furnaces, as well as a vacuum aluminum-brazing furnace - all with a variety of hot zone sizes and materials, including two vertical 84" x 84" hot zones. These furnaces offered a range of different features – from being capable of meeting AMS 2750E requirements to providing improved temperature uniformity using individual, PID-controlled heating zones and ensuring ease of system maintenance with a hinged rear service door.

Combined with the ability to run a number of different processes, including annealing, brazing, hardening, stress relief and tempering, these shipments represent Ipsen's ability to provide sophisticated and intuitive heat-treating solutions through all-inclusive product lines. In addition, every furnace shipped by Ipsen is fully tested at vacuum and at temperature to ensure fast commissioning once it arrives at the customer's site.

With the help of Ipsen's Global Support Team - which facilitates furnace installations, as well as provides expert training and startup assistance throughout the entire lifespan of the equipment - customers can rely on Ipsen to provide 360° support for all of their heat-treating needs. When it comes to global support, Ipsen is your partner in success. To learn more about Ipsen's range of equipment offerings, visit www.IpsenUSA.com/Products.

About Ipsen
Ipsen designs and manufactures industrial vacuum furnaces, atmosphere furnaces and supervisory control systems for a wide variety of thermal processing markets, including: Aerospace, Commercial Heat Treating, Medical, Energy and Automotive. With production locations in Europe, America and Asia, along with representation in 34 countries, Ipsen is committed to providing support for customers worldwide. Choosing Ipsen means choosing a partner in success.