Ipsen Ships ATLAS Atmosphere Furnace Line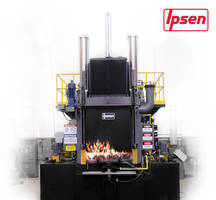 CHERRY VALLEY, IL – Ipsen recently shipped an ATLAS atmosphere furnace, two temper furnaces, a washer, a loader and a storage table to a commercial heat treater in the Midwest. This single-chain, batch atmosphere furnace will be used to process parts for the Aftermarket Automotive and Oil Gas industries.

The single-chain ATLAS features a 36" x 48" x 38" (915 mm x 1,220 mm x 965 mm) load size with a 3,500-pound (1,600 kg) load capacity. It also operates at temperatures of 1,450 °F – 1,800 °F (788 °C – 985 °C) and has a quench oil capacity of 3,500 gallons (13,250 L).

The ATLAS furnace offers some of Ipsen's newest design features and innovations, including:

• Carb-o-Prof ® controls software with predictive process capabilities
• An efficient heating combustion system, which provides energy and cost savings
• Cartridge-type heat fan assembly
• Variable-speed quench agitation, which allows users to achieve and maintain better quenching control
• Shelf-mounted quench oil heaters and oil circulation pump
• Safety catwalks for safety and better ease of maintenance

When it comes to quality atmosphere heat-treating equipment, Ipsen is your partner in success. Ipsen has one of the largest install bases of atmosphere furnaces in the United States (several thousand since being founded in 1948), and their experience allows them to continue providing full-scale solutions that meet a range of customer needs. To learn more about Ipsen's ATLAS single-chain atmosphere furnace, visit www.IpsenUSA.com/ATLAS.

About Ipsen
Ipsen designs and manufactures industrial vacuum furnaces, atmosphere furnaces and supervisory control systems for a wide variety of thermal processing markets, including: Aerospace, Commercial Heat Treating, Medical, Energy and Automotive. With production locations in Europe, America and Asia, along with representation in 34 countries, Ipsen is committed to providing support for customers worldwide. Choosing Ipsen means choosing a partner in success.
More from Services