Ipsen Sells Custom Atmosphere Furnace to U.S. Customer in Aerospace & Defense Industry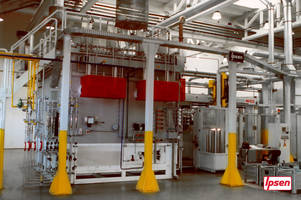 Ipsen Sells Custom Atmosphere Furnace to U.S. Customer in Aerospace & Defense Industry
CHERRY VALLEY, IL – One of the largest companies in the Aerospace & Defense industry recently purchased a rotary hearth furnace to heat treat state-of-the-art equipment they have developed. More specifically, this custom furnace will be used to process specialized gears for helicopters. Ipsen plans to deliver the rotary hearth furnace early next year.
Rotary hearth furnaces are extremely versatile and designed for both carburizing shallow case depths and for reheating pretreated work pieces. Its high throughput makes it particularly suitable for even temperature distribution, and robotic loading with automated press quenching systems. Learn more at IpsenUSA.com/Rotary-Hearth.
About Ipsen
Ipsen designs and manufactures industrial vacuum and atmosphere heat-treating systems, supervisory controls systems and predictive maintenance software platforms for a wide variety of industries, including Aerospace, Automotive, Commercial Heat Treating, Energy and Medical. With production locations in America, Europe and Asia, along with representation in 34 countries, Ipsen is committed to providing 360° support for customers worldwide. Choosing Ipsen means choosing a partner in success.
More from Thermal & Heating Equipment