Ipsen's Turnkey Installation Offers Customers a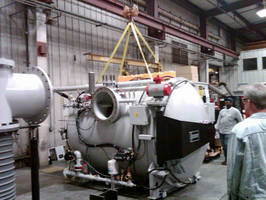 CHERRY VALLEY, IL - Ipsen's Aftermarket Services has the ability to foster turnkey installations as a convenient customer option where certified Ipsen installers are utilized to ensure the best handling and treatment of Ipsen equipment. Ipsen can provide the skilled pipefitters and electricians to complete utility tie-ins. Turnkey installation is an option alongside the standard start-up and training that Ipsen provides with every furnace purchase; supervision is also offered as an installation option. Progressively more customers are turning to Ipsen for convenient, comprehensive installations of their furnace purchases to save time, money and hassle. By putting the installation into Ipsen's hands, customers eliminate the guesswork and risk associated with securing qualified contractors. Our fixed costs, along with a clearly defined scope-of-work, ensure that cost overruns are avoided and schedules are met. For example, Ipsen recently completed a dual furnace installation for a company in Houston, Texas, where the furnaces were installed and utility tie-ins completed in just three weeks. Invested in delivering quality and upholding customer partnerships, Ipsen stands by their name and furnaces to help customers achieve the best, most successful results. Ipsen's field service engineers have the technical experience needed to support all of their furnace installations worldwide. They enjoy being in the field, getting to know customers, fixing problems and providing recommendations for improvements. Their start-to-finish customer care shows their dedication to keeping customers up and running productively. Aftermarket Support Services is available by calling 815-332-4941 or toll free 800-727-7625 and asking for the Service department. Additional information can be found online at http://www.ipsenusa.com/aftermarket-support.php.
About Ipsen, Inc.
Ipsen, Inc. designs and manufactures thermal processing systems for a wide variety of markets, including Aerospace, Medical, Energy, Chemical and Automotive. With thousands of installed systems worldwide, whether it's innovative titanium knee implants, making cars more efficient, developing new jet engines or going to the moon, Ipsen delivers quality. 
More from Optics & Photonics