Ipsen's TITAN® Vacuum Furnace Earns Its Wings as Part of a Collaborative 3-D Printer-Furnace Package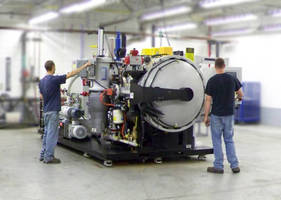 CHERRY VALLEY, IL – As the world evolves, so does the way products travel to customers. Ipsen recently hit a new milestone, shipping their first TITAN® vacuum furnace by air. This TITAN H2 with 2-bar quench was shipped to a company located near Shanghai, China as part of a collaborative 3-D printer-furnace package. This company is part of the Continuous Casting industry, and they will use the TITAN furnace to process printed steel part prototypes and assist in furthering the company's new Research Development projects.

This thermal processing vacuum furnace was purchased as part of Ipsen's partnership with a global provider of 3-D printing machines and printed products. This collaboration helps provide customers with the ideal 3-D printer-furnace package. Since the partnership began, several 3-D printer-furnace packages have been sold to companies throughout Europe and North America; however, this was the first combination to be sold to a company in China.

The TITAN vacuum furnace's journey began at Ipsen's Cherry Valley facility, where it was assembled. During that time, the customer visited Ipsen's facility to receive hands-on installation and operation training. The furnace was then shipped to Kentucky's CVG Airport. From there, its modular and compact size allowed it to be easily loaded upon a plane and shipped to China.

Even though this is the company's first 3-D printer and first vacuum furnace, Ipsen's global presence – including an office located nearby in Shanghai – gives them immediate access to support whenever necessary. Customers can also take advantage of Ipsen's Global Support Team, which facilitates on-site installation, expert training and start-up assistance from the moment of delivery through the entire lifespan of the equipment.

Ipsen's TITAN line is a self-contained, skid-mounted system that installs in just one day. Designed for ease of use, the TITAN is perfect for first-time heat treaters and experts alike. TITAN's standardized, simple-to-master control system operates in 20-plus languages, meets global industry standards, switches easily between units of measure and stores up to 1,000 recipes. Overall, the TITAN is an extremely versatile furnace that is able to handle a number of different processes, including annealing, hardening, brazing, sintering, tempering and more. To learn more about TITAN, visit www.IpsenUSA.com/TITAN.

About Ipsen
Ipsen designs and manufactures industrial vacuum furnaces, atmosphere furnaces and supervisory control systems for a wide variety of thermal processing markets, including: Aerospace, Commercial Heat Treating, Medical, Energy and Automotive. With production locations in Europe, America and Asia, along with representation in 34 countries, Ipsen is committed to providing support for customers worldwide. Choosing Ipsen means choosing a partner in success.
More from Thermal & Heating Equipment