Ipsen Delivers Wide Range of Atmosphere Products, Maintaining Strong Presence in North American Market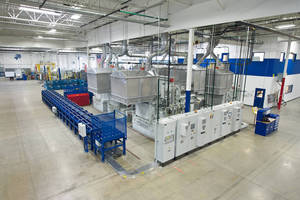 CHERRY VALLEY, IL — Since 2010, Ipsen has successfully installed more than 50 atmosphere furnaces, tempers and auxiliary equipment throughout North America, demonstrating their ability to provide advanced solutions with top-of-the-line atmosphere products.

These installations covered a diverse range of atmosphere furnaces, including single- and double-chamber sealed quench, vertical retort, pusher and box furnaces. Whether a new installation or an expansion of an existing line, these installations were designed for use in a range of applications and industries – Automotive, Aerospace, Commercial and Energy.

With one of the largest install bases of atmosphere furnaces in the United States – several thousand since being founded in 1948 – Ipsen continues to deliver atmosphere solutions that meet a range of customer needs. For Ipsen, a key part of innovating is listening to the specific needs and challenges of their customers and then providing ideal solutions that meet those needs.

As companies are faced with constantly evolving requirements and processes, nothing is more essential than finding heat-treating equipment that provides the necessary solutions. Overall, Ipsen's focus on customer needs allows them to provide customers with optimum equipment they can trust and rely on for full-scale solutions. Learn more about Ipsen's atmosphere product line at www.IpsenUSA.com/Atmosphere. 

About Ipsen
Ipsen designs and manufactures industrial vacuum furnaces, atmosphere furnaces and supervisory control systems for a wide variety of thermal processing markets, including: Aerospace, Commercial Heat Treating, Medical, Energy and Automotive. With production locations in Europe, America and Asia, along with representation in 34 countries, Ipsen is committed to providing support for customers worldwide. Choosing Ipsen means choosing a partner in success.
More from Sensors, Monitors & Transducers