IP67-Rated Gateway survives harsh environments.
Press Release Summary: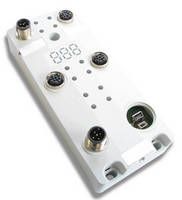 Using M12 connectors to interface with industrial automation networks, netBRICK comes in plastic housing and can operate as Slave or Master. Each supported protocol conversion is pre-programmed, facilitating I/O mapping, while electronic component selection ensure resistance to elevated thermal loads as well as sustained operation in areas with varying temperatures between -20 to +70°C. Product can be mounted inside/outside of any cabinet installation located indoors or outdoors.
---
Original Press Release:

Hilscher netBRICK Gateway for Harsh Environments



Hilscher North America Inc. is pleased to announce the release of netBRICK, an IP67 rated gateway designed to provide industrial network connectivity in harsh environments.

Each unit utilizes M12 connectors for connectivity to leading industrial automation networks like CANopen, DeviceNet, PROFIBUS, CC-Link, EtherCAT, Ethernet/IP, Modbus TCP, POWERLINK, PROFINET, SERCOS III, MB/RTU, ASCII, RS232-, RS422, and RS485. Each supported protocol conversion is pre-programmed making the mapping of I/O straightforward. netBRICK can be a Slave or Master device on the network. As a master, the SYCON.net system configuration tool is utilized for configuring the netBRICK.

An IP67 rating ensures that this new gateway can tolerate high dust levels and exposure to liquids. The durable plastic housing can withstand long term effects like warping and a grout finish protects the netBRICK making it resistant to dust and humidity. The gateway is secured with lockdown screws and can be mounted inside or outside any cabinet installation located indoor or outdoor. Operating temperatures range from -20 °C to +70 °C. A carefully selection of electronic components ensures that the netBRICK can also resist high thermal loads and guarantees sustained operation in areas with varying temperatures. The compact and rugged design allows you to leverage cabinetless designs for added cost reduction and can be placed in areas where less compliant devices are restricted allowing for efficient routing of the bus to various automation cells throughout the plant floor.

The netBRICK protocol converter is Class 1, Division 2 certified and meets UL, CE and Marine standards. These approvals guarantee resistance to shock, vibration and low electromagnetic interference while maintaining critical communications for your plant network.

About Hilscher:
The Hilscher group of companies are 130+ person strong ISO 9001 certified manufacturer of fieldbus products headquartered in Germany with subsidiaries in; Italy, France, Switzerland, Japan, China, India, South Korea and the United States. We offer products with master and slave technology for PROFIBUS, DeviceNet, InterBus, AS-I, ModbusTCP, PROFINET, EtherNet/IP, EtherCAT, SERCOS, SERCOS III, Modbus Plus, Modbus, CANopen, AS-I, ControlNet, etc. Our product architecture is truly scalable with a single driver interface for both masters and slave interfaces of all networks and all form factors. A single configuration tool SYCON.net is used to configure all our products. Drivers are available for all versions of Windows, QNX, Linux, and RTX, VxWorks, etc.. With a Staff of over 130, the Hilscher family of companies are global leaders in field bus technologies.

For the press contact:
Philip Marshall
Hilscher North America, Inc.
Phone: 630-505-5301
Email: pmarshall@hilscher.com

For Customers Sales:
Gary Catapat
Hilscher North America, Inc.
Phone: 630-505-5301
gcatapat@hilscher.com

More from Thermal & Heating Equipment