IP67 Directional Panel Antennas serve high-density environments.
Press Release Summary: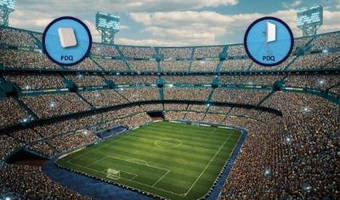 PDQ series includes high-density, weather-resistant, Wi-Fi® antennas with MIMO technology that enable reliable connectivity for wireless devices in such high-density environments as sports stadiums. Model PDQ24499 has 4 radiating elements operating over 2,400–2,500 MHz / 4,900–5,950 MHz with 2 ports vertical and 2 ports horizontal polarization delivering 8.6/9.4 dBi gain. Model PDQ244915, with same number of radiating elements, operating range, and ports, offers 11.1/15.0 dBi gain.
---
Original Press Release:

Laird Raises the Wireless Bar for Connected Stadiums



New Antennas Offer Greater Capability and Weather Resistance, Allowing More Devices to Stay Reliably Connected At Any Entertainment Venue



SCHAUMBURG, Ill. – Today at the 2016 International Wireless Communication Expo (IWCE) in Las Vegas, Nevada, global technology leader Laird (LRD: London) announces the release of two new Wi-Fi antennas which enable reliable connectivity for wireless devices in high density environments, like sports stadiums.



Both spectators and stadium operators expect their mobile devices to perform reliably inside venues to stream video, share photos, update friends on social networks, support security and crowd management operations or even process customer payments. But existing wireless networks in many sports and entertainment venues are not optimized to handle the wireless traffic generated by tens of thousands of mobile devices, often leaving fans and stadium operators frustrated and underserved.



"Many existing antennas function much like a small city street with only one lane for traffic," explains Jack Cowper, Laird's Senior Vice President of Infrastructure Antenna Systems.



Cowper adds, "That's exactly why Laird engineered the PDQ family of high density, weather resistant Wi-Fi antennas. These antennas with multiple-input, multiple-output (MIMO) technology function more like an interstate highway, allowing more traffic through in less time. This enables fans to share the event experience in addition to supporting revenue generating stadium operations delivering an excellent return on investment."



Laird's new PDQ Wi-Fi antennas are the first which have been designed to meet the unique needs of large crowds in addition to being able to withstand the harshest of weather conditions at outdoor locations for years. The result is a suite of products for all types of venues, specifically tailored to provide Laird's most reliable coverage and capacity for different areas of the stadium from spectator seating to concession and ticketing to backroom offices and security.



The PDQ antennas also come with Laird's new 5 year product warranty program also launched this week. Learn more about Laird's new warranty program by clicking here.



"This is an exciting week for Laird as we are also releasing a line of antennas for the connected transportation industry including fleet management and asset tracking customers," says Cowper. "These antennas deliver more reliable multi-band connectivity for cars, trucks, and buses traveling through various coverage zones. They are also covered by our new 5 year product warranty program."



PDQ ANTENNA FEATURES

The PDQ24499 directional panel antenna has four (4) radiating elements operating over 2400-2500 MHz / 4900-5950 MHz: 2 ports vertical & 2 ports horizontal polarization delivering 8.6 dBi/9.4 dBi gain all in a ultra-slim, IP67 ingress rated housing providing high level signal radiation density within the engineered coverage area.



The PDQ244915 directional panel antenna has four (4) radiating elements operating over 2400-2500 MHz / 4900-5950 MHz: 2 ports vertical & 2 ports horizontal polarization delivering 11.1 dBi/15.0 dBi all in a ultra-slim, IP67 ingress rated housing that delivers concentrated signal transmission uniformly within the directional radiation pattern which maximizes antenna performance.



About Laird

Laird is a global technology company focused on providing systems, components and solutions that protect electronics from electromagnetic interference and heat, and that enable connectivity in mission critical systems through wireless applications and antenna systems.



Products are supplied to all sectors of the electronics industry including Connected Transport, Connected Industry, Connected Medical, Telecom/ Computing, and Mobile Device markets.



Laird PLC employs over 9,000 employees in more than 50 facilities located in 19 countries.



For the latest news or more information, visit:

Lairdtech.com|twitter.com/lairdtech 

facebook.com/lairdtech 

linkedin.com/company/laird-technologies



Trademarks

© 2016 All rights reserved.  Laird, Laird Technologies and the respective logos are trademarks owned by Laird PLC and/or Laird Technologies Inc. either directly or indirectly through one or more subsidiaries. Other products, logos, and company names mentioned herein, may be trademarks of their respective owners.



CONTACT:

Alex Reed

Communications Manager

Office: +1-636-898-6079

Email: alex.reed@lairdtech.com



Web Site: http://www.lairdtech.com



More from Fluid & Gas Flow Equipment