IP/WAN Network Simulator supports 10 Gbps data rates.
Press Release Summary: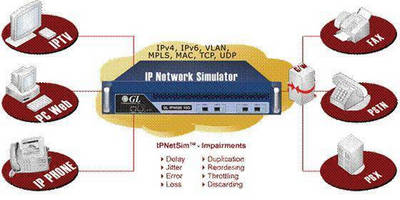 Offering multi-link emulation, IPNetSim(TM) IPN600 Series simulates impairments commonly found in IP Networks and can be used to test IP end point devices for voice, fax, data, or multimedia transmission over IP. Models IPN601 and IPN610 respectively offer 1 and 10 Gbps multi rate capability with four 1 or 10 Gbps SFP+ ports, supporting both 10 Gbps SFP+ and 1 Gbps SFP. With capacity of up to 4 or 40 Gbps, network emulators can simulate 2 separate full-duplex links up to 4 or 10 Gbps.
---
Original Press Release:

GL Announces IPNetSim(TM) with Multi Link and 10 Gbps Rates



Gaithersburg, Maryland, USA - GL Communications Inc. announced today the release of its latest IPNetSim(TM) (IPN600 Series) - An IP / WAN Network Simulator with advanced multi-link emulation and up to 10 Gbps rates. Addressing a press conference, Mr. Vijay Kulkarni CEO of the company said, "IPNetSim(TM) is an IP network simulator that simulates impairments commonly found in IP Networks, such as bandwidth constriction, congestion, packet jitter, packet delay, packet bit errors, packet loss and other conditions. It can be used to test IP end point devices such as Gateways, IADs, IP phones, Soft phones, and so on for voice, fax, data, or multimedia transmission over IP."

He added, "The new IPNetSim(TM) IPN600 series (IPN601 - 1 Gbps Model and IPN610 - 10 Gbps Model) offers 1 or 10 Gbps multi rate capability with four 1 or 10 Gbps SFP+ ports, supporting both 10 Gbps SFP+ and 1 Gbps SFP. With a capacity of up to 4 or 40 Gbps, the IPNetSim(TM) IPN600 series Network Emulators can simulate two separate up to 4 or 10 Gbps full-duplex links."

Mr. Kulkarni further added, "The IPNetSim(TM) Series IPN010, IPN100, and IPN400 differ from the IPNetSim(TM) Series IPN600 in the number of paths (also called streams or links) that the Emulator Engines (EEs) can support per pair of interfaces. The lower series have one path per EE, one for each direction. The higher series can have up to 15 paths per EE, 15 for each direction."

Some of the Important Features:

Supports aggregate capacity of 40 Gbps - two pairs of SFP+ ports - can simulate two separate 10 Gbps full-duplex links - each emulation engine can simulate up to 15 different links.

Accurately simulate links from 100 bits per second up to 10 Gbps. Also available in a 1 Gbps version for users who need to emulate many lower speeds links or want the flexibility to upgrade to 10 Gbps later.

Supports 10 Gbps SFP+, 1 Gbps SFP, 1/10 Gbps dual-rate SFP+ transceiver, as well as 1 or 10 Gbps direct attach cables.

Each emulation port is limited to a packet processing rate of 4.25 million packets per second and an aggregate limit of 17 million pps.

Easy-to-use GUI provides the responsiveness of an application with the convenience of a standard web browser.

Packets assigned to individual link by any combination of IP address, VLAN, MPLS label, port number, or any other packet field.

Emulate latency in constant, normal or uniform distribution in either direction. Emulate jitter using either the normal or uniform distribution.

Emulate Packet loss in each direction can be specified in a single value, periodic loss, burst loss, or as bit errors (BER) of values of 1x10-18 or greater; supports packet duplication, contents of received Ethernet frames

Emulates dynamically changing WAN conditions like link outages, variable bandwidths links, route flapping, satellite rain fade, and wireless interference with high-flexibility

View and download up to 24 hours of throughput graphs and link statistics; self monitoring indicators to verify resources.

Capture and reproduce the conditions of a live network link with record/playback functionality

About GL Communications Inc.,
Founded in 1986, GL Communications Inc. is a leading supplier of test, monitoring, and analysis equipment for TDM, Wireless, IP and VoIP networks. Unlike conventional test equipment, GL's test platforms provide visualization, capture, storage, and convenient features like portability, remotability, and scripting.

GL's TDM Analysis & Emulation line of products includes T1, E1, T3, E3, OC-3, OC-12, STM-1, STM-4, analog four-wire, and analog two-wire interface cards, external portable pods, and complete system solutions. Capabilities include voiceband traffic analysis and emulation across all traffic types (voice, digits, tones, fax, modem), all protocols (ISDN, SS7, GR-303, Frame Relay, HDLC, V5.X, ATM, GSM, GPRS, LTE, etc.), and with capacities up to thousands of channels. Our newest products provide astonishing capacity and capture capability up to and including gigabit speeds.

GL's VoIP and IP products generate / analyze thousands of calls and traffic simultaneously with traffic types such as frames, packets, voice files, digits, video, tones, noise, and fax. Almost all codecs are supported including G.711, G.729, AMR, EVRC-A,B,C, GSM, iSAC, and many more. Additional features include visual analysis, real-time listening, and recording. The product line also includes Ethernet / IP Testing capability that simulates and checks frame transport and throughput parameters of Ethernet and IP networks, including delay, errors and other impairments.

GL's Voice Quality Testing (VQT) product line complements all of GL's products. Using ITU-standard algorithms (PAMS, PSQM, and PESQ), GL's VQT provides a widely accepted solution for assessing voice quality in the telecom industry. Voice Quality Testing across multiple networks (T1, E1, T3, E3, OC-3, OC-12, VoIP, Wireless, and Landline) are all available.

GL's Wireless Products perform protocol analysis and voice quality assessment on GSM, CDMA, UMTS, and LTE networks. Connections can be made to any wireless phone with automated call control, GPS mapping and real-time signal measurements.

GL's Echo Canceller testing solutions provide the broadest range of simulation and analysis, including line and acoustic echo. GL's compliance testing per G.168. G.167 and P.340 across TDM, IP, VoIP and Wireless networks is widely accepted in the industry.
GL's wireless VQT solutions help assessing impairments to voice quality such as poor mobile phone quality, voice compression and decompression algorithms, delay, loss and gain in speech levels, noise, acoustic and landline echo, and other distortions are easily assessed and accurately measured.

GL's Handheld data testers can test a wide variety of communications facilities and equipment including T1, fractional T1, E1, fractional E1, T3 and E3 modems, multiplexers, CSU, DSUs, T1 CSUs, DTUs, NTUs and TIUs and more. The testers provide convenience, economy, and portability for almost any interface, including RS232, RS-422, RS-530, X.21, T1, E1, T3, E3, and many others.

GL's Network Surveillance and Monitoring products include Probes for TDM, IP, VoIP, ATM, and Wireless networks. An open standards based approach provides a scalable, feature rich, real-time access to network characteristics. Centralized or distributed access, efficient transport and database loading allow compatibility with 3rd party and standards based monitoring systems.

More from Test & Measurement