IP Surveillance Video Server employs quad processor.
Press Release Summary: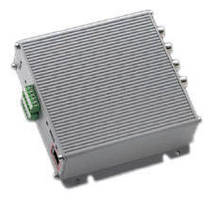 Maximizing bandwidth efficiency via MPEG-4/MJPEG compression, 4-channel OVS-400Q allows analog video from existing surveillance system to be converted to digital streams and networked into IP surveillance system. It supports video output in D1/CIF resolutions with full screen or quad view as well as multi-stream with variable frame rate in same compression. Hardware motion detection is also included, along with support for 2-way audio, manual bit rate control, and 2 sets of alarm I/O.
---
Original Press Release:

Ethernet Direct Delivers OVS-400Q Industrial IP Surveillance Video Server with Built-in Quad Processor



Taipei, Taiwan, 15 June, 2009 - Ethernet Direct Corporation, a professional and primary provider of industrial networking and communication solutions, is now delivering a new model of Industrial 4-channel IP Surveillance Video Server with built-in quad processor.

OVS-400Q is a 4-channel IP surveillance video server with built-in quad processor which converts analog video signals into IP video streams. The OVS-400Q video server can stream digitized video over IP networks in the same way that an IP Camera can. Because an IP Video server uses IP protocols, it can stream video over any network that IP can use. Ethernet Direct provides IP surveillance technology to offer more future-proof and cost-effective solutions to help industry professionals migrate from analog to digital in a smooth way. With this new solution, the video from an existing surveillance system can be converted and networked into a new IP surveillance system. To maximize bandwidth efficiency, OVS-400Q comes with MPEG-4/MJPEG format video compression.

Video over Ethernet solution is now popular in the Industrial marketplace. To address the growing market demands, Ethernet Direct offers high-performance OVS-400Q video server designed for professional security and surveillance applications.

Extensive Video and Software Functions

Supports 4 channels video input

Supports video encode in MPEG-4/MJPEG format

Supports video output in D1/CIF resolutions with full screen or quad view

Supports simultaneous MPEG-4/MJPEG streams with audio

Supports multi-stream with variable frame rate in the same compression

Supports two-way audio

Supports manually bit rate control from 28Kbps up to 3Mbps

Supports 2 sets of alarm input/output via terminal block connection

Built-in hardware motion detection

Supports network security via setting up multiple user access levels

Supports ToS (Type of Services) tag adding into streaming data

OWL Industrial video servers come with added advantages like easy deployment in all types of tough environments. OWL series come in flexible and scalable solution for video surveillance and remote monitoring. Ethernet Direct solutions are based on open standards for cost efficiency, future proof and easy to integrate with other systems.
To learn more about the OWL series, please contact the Global Ethernet Direct locations.

Ethernet Direct Corporation
Ethernet Direct brings a control system engineering perspective to networking technology. The principals of Ethernet Direct come from process-control and PLC system backgrounds.

The Global Ethernet Direct team covers operations from Product know-how, design implementation, quality assurance, manufacturing, logistics, sales, marketing & technical support. We are well-positioned to fulfill customers' needs and markets' demands by providing a great variety of tailor-made products and services. When you work with us, you will experience confidence and dependability. By choosing Ethernet Direct, you have chosen excellence & long-term

More from Optics & Photonics